Migrant Women, Children Denied Shelter in Libya's Battleground
Migrant women and children trapped in the battle for control of Libya's capital are being turned away from shelters, exposing them to airstrikes and sexual abuse. In the region of 140,000 migrants and refugees were estimated to live in Tripoli prior to the renewed conflict, writes Nellie Payton for Thomson Reuters Foundation.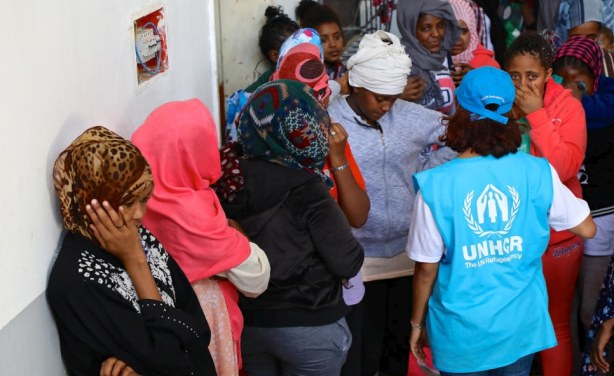 Refugees and asylum-seekers are processed at Tripoli International Airport before an emergency evacuation flight to Niamey, Niger, May 2018.
InFocus
Libyan Prime Minister Fayez Al-Serraj has met with British Prime Minister Theresa May and Foreign Secretary Jeremy Hunt to discuss international support for a ceasefire and ... Read more »

There are fears for the safety of African migrants after armed men attacked detainees at the Qasr Ben Geshir detention centre on April 23, according to reports. About 6,000 ... Read more »

Sudan's Defence Minister General Ahmed Awad Ibn Auf has seized power, arrested Al-Bashir suspended the Constitution and will oversee a two-year transitional period. While in Libya, ... Read more »