Cameroon's Biya Finally Talks Peace
Prime Minister Joseph Dion Ngute, during his ongoing peace mission in the western parts of the country, has said that the president is willing to "listen to all other issues with the exception of separation or secession". Violence erupted in the Cameroon's two English speaking regions when an industrial strike by aggrieved lawyers and teachers in 2016 over perceived marginalization turned into a clamour by armed separatists for outright independence of the region.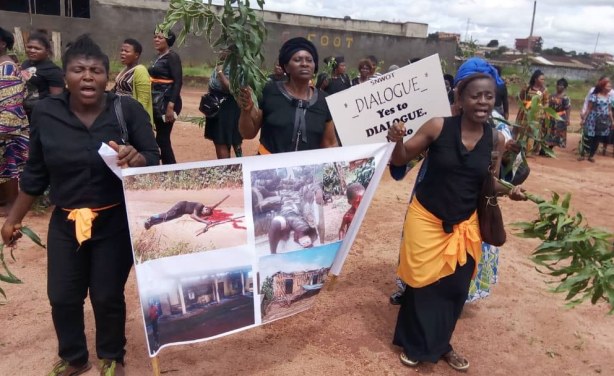 Women protest, holding up a poster with images of atrocities committed in an ongoing conflict between government forces and armed separatists, in Bamenda, Cameroon, Sept. 7, 2018.
Cameroon: Crisis Reaches Alarming Levels

CAJ News, 15 May 2019

THE security situation in Cameroon is spiraling out of control as the country faces attacks by the Boko Haram, deadly conflicts in English-speaking regions and a surge of refugees… Read more »

Cameroon: UNSC to Discuss Cameroon's Escalating Crisis

VOA, 15 May 2019

The United Nations Security Council this Monday is set to informally discuss the separatist crisis in Cameroon for the first time. The discussion comes at a time when the conflict… Read more »
InFocus
The UN has warned that the country has become one of the fastest-growing displacement crises in Africa, and that the security and humanitarian situations are deteriorating and risk ... Read more »

The country needs a rapid and deep-rooted effort to tackle the violence that has spilled over the border from Nigeria, Chad and Central African Republic, while crackdowns on ... Read more »

Authorities have tortured and held incommunicado detainees at a detention facility in Yaoundé. Security forces at the State Defense Secretariat have severely beaten and used ... Read more »