South African Ombud's Probe into Gupta-Linked Dairy Ruled Invalid
The Gauteng High Court in Pretoria has ruled that Public Protector Busisiwe Mkhwebane failed in her duties to investigate and report on the Vrede dairy project in the Free State. Gifted to Estina in 2013 under a free 99-year lease by the provincial agriculture department, the farm has been one of the most scandalous transactions between the Guptas and a government entity, writes News24. The #GuptaLeaks revealed in 2018 how at least R30 million paid to the Guptas via the farm ended up funding the family's lavish Sun City wedding in 2013.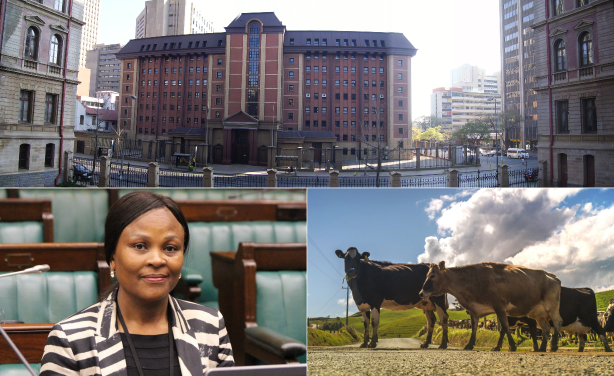 Top: Pretoria High Court. Bottom-left: Public Protector Busisiwe Mkhwebane. Bottom-right: Cows.
InFocus
Busisiwe Mkhwebane has faced a grilling from MPs in Parliament's Portfolio Committee on Justice and Correctional Services. This comes after she was summoned to discuss criticism of ... Read more »

Public Protector Busisiwe Mkhwebane's report on the Vrede Dairy Farm Project in the Free State has been labelled as a "whitewash and an insult to all South Africans". Millions in ... Read more »