How Uganda Sets An Example For Integrating Refugees
An Africa Dialogue on refugees is taking place this week at the United Nations, organized by the office of Under-Secretary-General Bience Gawanas, who is Special Advisor on Africa to Secretary-General António Guterres. The aim is to advance solutions for forced displacement in Africa and to look at best practices and lessons learned in African countries hosting refugees.
Sierra Leone: UNHCR, Pan-African Parliament Agree to Step Up Cooperation On Forced Displacement

Concord, 16 May 2019

UNHCR Representative to the African Union Cosmos Chanda and Pan African Parliament President Roger Nkodo Dang sign agreement in Midrand South Africa. UNHCR/S. Momodu Read more »

Africa: Conflicts Uproot a Record 41 Million in Their Own Countries

Thomson Reuters Foundation, 10 May 2019

A record 41.3 million people were uprooted within their own countries last year due to conflicts and violence, data showed on Friday, with two-thirds displaced in just 10 countries… Read more »

Africa: Young Refugees Can Help 'Silence the Guns By 2020'

ISS, 9 May 2019

Today more than 600 million young people globally live in fragile and conflict-affected areas, many of them in Africa. At some point they are forced to leave their homes to embark… Read more »

Uganda: Refugees in Uganda - the Value of a Million Human Lives

Deutsche Welle, 17 November 2018

Uganda is a front runner when it comes to forward-looking refugee policy. But financial aid from abroad only trickles in and the situation is worsening. Who should pay -- Uganda or… Read more »

Uganda: Government Launches Healthcare Plan for Refugees

Monitor, 29 January 2019

Government has launched the Sector Integrated Refugee Response Plan to cater for refugees and the host communities. Read more »

Uganda: World Bank Approves Another Grant for Refugees in Uganda

East African, 20 April 2019

The World Bank on April 17 approved a Ush564 billion ($150m) grant to Uganda to boost ongoing efforts to improve access to basic social services, expand economic opportunities, and… Read more »

Uganda: Refugees Attracted By Uganda's Open Policy

Monitor, 18 November 2018

Officials managing refugee affairs in Uganda have told the East Africa Legislative Assembly (Eala) MPs on Regional Affairs and Conflict Resolution Committee that Uganda's 'open… Read more »

Uganda: Uganda Stands Out in Refugees Hospitality

Africa Renewal, 7 December 2018

The country hosts the largest number of refugees in Africa - more than a million Read more »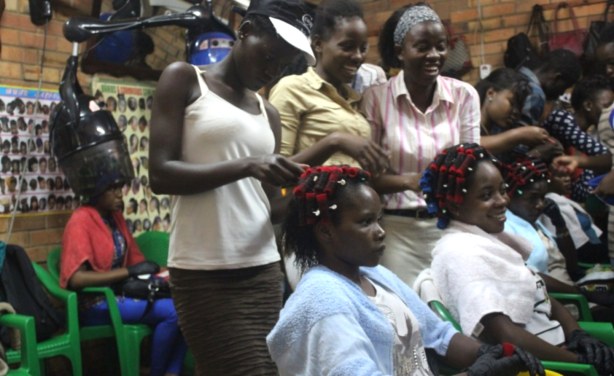 Some South Sudanese refugees find work in Kampala salons (file photo).