Snakebites Are A Hidden Health Crisis
Despite affecting a huge number of people, it's rare to hear snakebite spoken about as a health problem. But the global burden of death and disability due to snakebites is the same as prostate or cervical cancer and it's higher than infectious diseases like rabies or dengue fever, an expert says.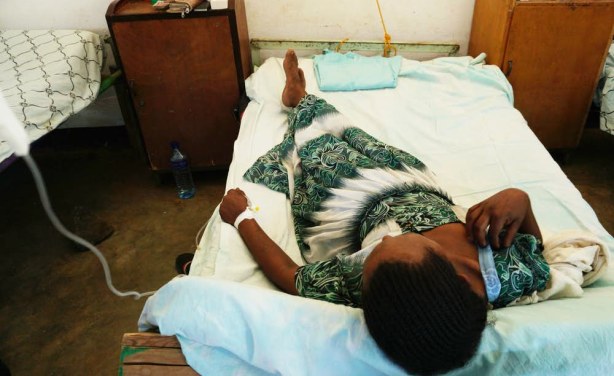 24-year old migrant harvest worker Workey Mekonen, receives an infusion of antivenom in the MSF clinic in Abdurafi, Ethiopia. She was bitten on her forehead by a small snake, while sleeping on the ground in a shed in the farmlands.
Africa: WHO Launches Strategy to Cut Snakebite Deaths and Disabilities in Half

MSF, 23 May 2019

Médecins Sans Frontières (MSF) welcomes the release of the long-anticipated World Health Organization (WHO) strategy on the prevention and control of snakebite… Read more »

Ethiopia: The First Ten Minutes Are Critical - Treating Snakebite in Ethiopia

MSF, 14 February 2019

A young woman with a swollen face sits on a bed in MSF's close monitoring room, in Abdurafi, northern Ethiopia, awaiting the result of her blood test for snakebite envenoming.… Read more »

Nigeria: How Govt's Inaction Causes Death of Hundreds Annually From Snakebite

Premium Times, 17 March 2019

Massive deaths from snakebites have become a recurrent decimal in Nigeria. Read more »

Uganda: WHO Adds Snakebite to Neglected Tropical Diseases Category

Monitor, 2 August 2018

The World Health organisation (WHO) has urged member states to prioritise venomous snakebites following its re-addition to the list of neglected tropical diseases (NTDs) that… Read more »

South Africa: The Curious Case of 'Hannibal', the Cape Cobra Cannibal

News24Wire, 7 October 2018

A 1.67m male Cape cobra in the semi-arid grasslands of the Kalahari Desert has caused a stir after he was caught snacking on one of his own. Read more »

Africa: Big Strides Are Being Made in the Push for Affordable, Effective Antivenoms

The Conversation Africa, 4 February 2018

For city dwellers, especially those in the developed world, the idea of being bitten by a venomous snake seems outlandish. But it is a daily and very real risk for millions around… Read more »

Kenya: Worries Over Increase in Snake Bite Deaths

Nation, 5 September 2018

Swaying to the hypnotic rhythm of the viper in front of him, Royjan Taylor, Watamu snake-venom milker shows no fear for the venomous fangs of this slithery reptile as he holds its… Read more »

Nigeria: Nigerian Clinic Records Average Two Snake Bites Cases Daily

Premium Times, 26 July 2018

The Zamko Comprehensive Medical Centre, Langtang in Plateau State, has recorded 430 cases of snake bites in the last eight months, according to its medical officer, Nyam Azi. Read more »

South Africa: There's a Snake On My Stoep! This Is How to Handle Slithery Visitors

News24Wire, 17 October 2018

Spitting cobras, black mambas, puff adders... These are just some of the snakes that are slithering about as spring brings rain and warmer temperatures to South Africa's provinces. Read more »

Namibia: Boy, 2, Dies After Snake Bite

Namibian, 13 November 2018

A two-year-old toddler who was bitten by a zebra cobra snake at Elisenheim just outside Windhoek last week, has died. Read more »
InFocus
International Relations and Cooperation Minister Lindiwe Sisulu has sent her condolences to family and friends of the late Cape Town Labour Court Judge Anton Steenkamp, who died ... Read more »

Two hundred and fifty victims of snake bites have died in the last three weeks in Plateau and Gombe states, following an acute shortage of anti-venom in the country. The government ... Read more »