South Africa's Ramaphosa Takes the Oath as President
More than 35,000 people, including foreign heads of state, attended President Cyril Ramaphosa's oath-taking ceremony on Saturday at a rugby stadium in Pretoria. Ramaphosa's African National Congress won legislative elections on May 8 , securing 230 seats in the 400-member parliament, but the 57.5% vote the party received was its lowest share of the ballot since the end of apartheid rule 25 years ago.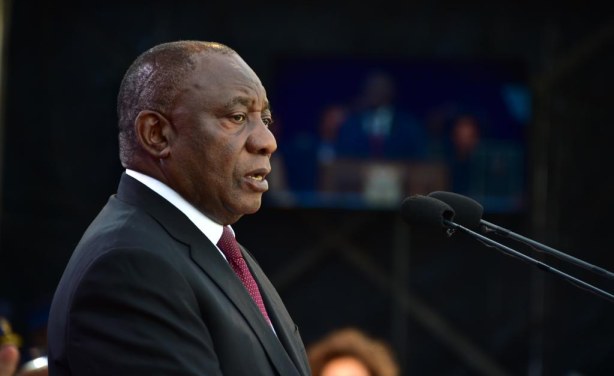 President Cyril Ramaphosa at the inauguration.
South Africa: The Seven Things New Leaders Need to Do to Fix South Africa

The Conversation Africa, 26 May 2019

South Africa's new national government and nine new provincial executives have taken office following recent elections. They all have a huge job to do, and it cannot be business as… Read more »

South Africa: South Africa Swears in Cyril Ramaphosa As President

Deutsche Welle, 25 May 2019

The 66-year-old was unanimously elected as president by parliament after his African National Congress won the legislative vote on May 8. The new president faces a huge challenge… Read more »

South Africa: Paratrooper Who Crash Landed At Loftus Released After Brief Examination

News24Wire, 25 May 2019

The paratrooper who made a crash landing into Loftus Versfeld stadium during the presidential inauguration on Saturday is doing well and has been released after being examined. Read more »

South Africa: Ramaphosa Inauguration - Paratrooper Taken for Check Up After Crash Landing

News24Wire, 25 May 2019

A paratrooper who made a crash landing after parachuting into Loftus Versveld stadium for the presidential inauguration on Saturday, has been taken to 1 Military Hospital for a… Read more »

South Africa: Festive Spirit At Loftus As Citizens Gather for Presidential Inauguration

News24Wire, 25 May 2019

Vuvuzelas, creative outfits, good music and SA flags - this was the order of the day as people filed into the Loftus Versfeld Stadium in Tshwane on Saturday morning to witness… Read more »

South Africa: Address By President Cyril Ramaphosa On the Occasion of the Presidential Inauguration

SAnews.gov.za, 25 May 2019

25 May 2019 Read more »

South Africa: Achieving a South Africa We Want

SAnews.gov.za, 25 May 2019

President Cyril Ramaphosa has called on business, labour as well as South African citizens, to mobilise all resources to address poverty, inequality and unemployment, as the… Read more »

South Africa: U.S. Congratulates President Ramaphosa

SAnews.gov.za, 26 May 2019

The United States has congratulated President Cyril Ramaphosa on his inauguration as President of the Republic of South Africa and the members of the sixth democratically-elected… Read more »

South Africa: South Africa Celebrates 6th Democratically Elected President

SAnews.gov.za, 25 May 2019

Cyril Ramaphosa has officially become South Africa's sixth democratically elected President after taking the oath of office at Loftus Versfeld Stadium in Pretoria. Read more »

South Africa: Yes SA, Thuma Mina!

SAnews.gov.za, 25 May 2019

Having taken his oath as the sixth democratically-elected President, Cyril Ramaphosa has said: "Yes, South Africa, Thuma Mina". Read more »

South Africa: Ramaphosa Paints a Technicolor Future. Next Up - Real Life

Daily Maverick, 27 May 2019

Watching and listening to Cyril Ramaphosa's inaugural address and the enveloping ceremonies inevitably triggered thoughts of cinematic and historical references. The whole… Read more »

South Africa: The Week to Herald South Africa's Political Future Starts Now

Daily Maverick, 26 May 2019

With an announcement about the composition of President Cyril Ramaphosa's brand new Cabinet this week, it appears that the eggs involved in this political omelette have become well… Read more »

South Africa: Ramaphosa Shakes Off Zuma's Spectre, Sets the Tone for a Constitutionalist Presidency

Daily Maverick, 25 May 2019

Many of the things President Cyril Ramaphosa said at his official inauguration as South Africa's fifth democratic president weren't new. South Africans heard much of it a decade… Read more »

South Africa: Straight-Talking Ramaphosa Promises Action On Corruption, Inspires Hope for a Unified SA

Daily Maverick, 25 May 2019

President Cyril Ramaphosa on Saturday took the oath of office and committed to turning words into actions. Echoing the unifying spirit of Nelson Mandela, he pledged to address the… Read more »