South Africa Waits for Announcement of New Cabinet
President Cyril Ramaphosa didn't announce his Cabinet as was widely expected on Sunday. The Daily Maverick's Marianne Merten writes that it is unprecedented that a day after assuming office the new president of South Africa has neither announced a Cabinet, nor indicated a firm time on which such an announcement will be made. The delay in the Cabinet announcement comes in the wake of governing ANC ructions, including Deputy President David Mabuza's decision not to be sworn in as an MP.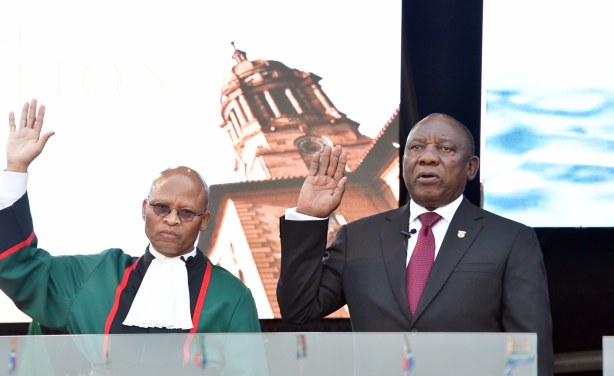 President Cyril Ramaphosa being sworn into office by Chief Justice Mogoeng Mogoeng on May 25, 2019.
South Africa: Ramaphosa Mulls His Options - and It's Complicated (Legally/Politically)

Daily Maverick, 26 May 2019

President Cyril Ramaphosa didn't announce his Cabinet as was widely expected on Sunday, nor will he announce it on Monday. Instead, the presidency said it would happen later in the… Read more »

South Africa: Ramaphosa's Cabinet to Be Announced Later This Week

News24Wire, 26 May 2019

The Presidency has issued a statement saying that Cyril Ramaphosa's cabinet announcement will only be made later this week. Read more »

South Africa: 'The Dogs of War Are Ready' - Faction of ANC NEC Says It's Time to Take Action Against Magashule

News24Wire, 26 May 2019

While many around the country and in the ANC are debating whether David "DD" Mabuza will take his seat as the country's deputy president, factions in the party are preparing… Read more »

South Africa: Malema to Ramaphosa - 'It Would Be a Mistake Not to Name Mabuza As Your Deputy'

News24Wire, 25 May 2019

EFF leader Julius Malema is of the view that President Cyril Ramaphosa would be making a mistake if he does not name David Mabuza as his deputy. Read more »

South Africa: Mabuza Not Out of the Race - Bathabile Dlamini

News24Wire, 25 May 2019

Don't rule out ANC deputy president David Mabuza as president Cyril Ramaphosa's choice of second in command, said Women's League president Bathabile Dlamini. Read more »

South Africa: ANC Integrity Commission Likely to Clear Gwede Mantashe

News24Wire, 26 May 2019

ANC chairperson Gwede Mantashe will most likely be cleared by the party's integrity commission when it hands over its report to Luthuli house early this week, sources told News24. Read more »

South Africa: Cabinet Announcement Later This Week

SAnews.gov.za, 26 May 2019

The announcement on the members of the new executive will be made later in the week, says the Presidency. Read more »

South Africa: The Week to Herald South Africa's Political Future Starts Now

Daily Maverick, 26 May 2019

With an announcement about the composition of President Cyril Ramaphosa's brand new Cabinet this week, it appears that the eggs involved in this political omelette have become well… Read more »

South Africa: Ramaphosa Faces Fraught Decision Over Immediate Fate of His Trusted Ally

Daily Maverick, 27 May 2019

It is highly likely that President Cyril Ramaphosa intends to appoint former Public Enterprises Minister Pravin Gordhan to his new Cabinet. But a Public Protector report released… Read more »

South Africa: Fiddling While South Africa Burns - What Is Busisiwe Mkhwebane Up To?

Daily Maverick, 27 May 2019

This is a formal invitation to the Public Protector to pick up at least one of the many cases that have been presented to the Zondo Commission, or others that we helpfully listed.… Read more »