Pressure Mounts in Face-Off Between South Africa's Gordhan, Ombud
Speaking on eNCA's The Fix, Pravin Gordhan's lawyer, Tebogo Malatji, said that Public Protector Busisiwe Mkhwebane did not engage meaningfully with submissions made to her office while investigating a complaint involving Gordhan's tenure as minister of finance. This comes as the Economic Freedom Fighters, who previously had misgivings about Mkhwebane's suitability for her office, came out in support of the Public Protector and called on President Cyril Ramaphosa to exclude Gordhan from his new Cabinet.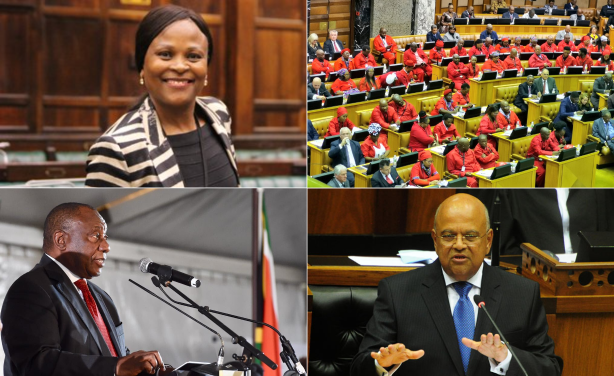 Top-left: Public Protector Busisiwe Mkhwebane. Top-right: EFF members in Parliament. Bottom-left: President Cyril Ramaphosa. Bottom-right: Pravin Gordhan.
InFocus
Public Protector Busisiwe Mkhwebane has recommended that President Cyril Ramaphosa take disciplinary action against Minister of Public Enterprises Pravin Gordhan after she found ... Read more »

An investigation is under way into a "rogue unit" set up reportedly under the watch of then-commissioner Pravin Gordhan, who is now finance minister, to investigate high-ranking ... Read more »