Ramaphosa's Cabinet 'Unimpressive', a 'Declaration of War'
South Africa's opposition parties have had their say on President Cyril Ramaphosa's new Cabinet. The Democratic Alliance said reducing the size of the governing body was not enough, while the Inkatha Freedom Party alleged Ramaphosa was merely "appeasing the powers" that control him. The Freedom Front Plus likened David Mabuza's inclusion in the Cabinet to an annoying burden for Ramaphosa, calling Mabuza the "albatross" around the President's neck. Meanwhile, the Economic Freedom Fighters spoke out against the addition of Pravin Gordhan and described it as a "declaration of war" by Ramaphosa.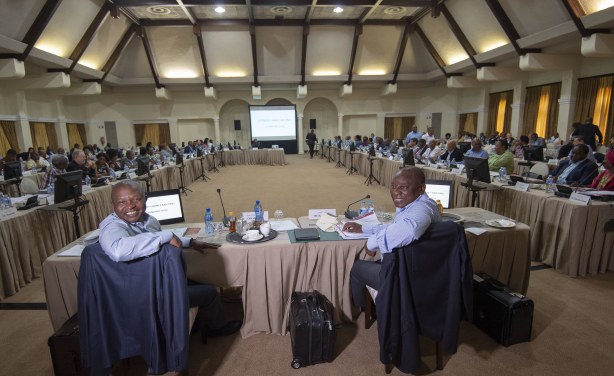 Deputy President David Mabuza, foreground left, and President Cyril Ramaphosa, foreground right, along with Cabinet Ministers, Deputy Ministers, Directors- General and Senior Government officials at the Sefako Makgatho Presidential Guest House for the Extended Cabinet Meeting.
South Africa: FF Plus Reacts to Ramaphosa's New Cabinet

News24Wire, 30 May 2019

Freedom Front Plus leader Dr Pieter Groenewald said the party was "overall" satisfied with President Cyril Ramaphosa's new Cabinet, but pointed out that the president failed to… Read more »

South Africa: Premier Alan Winde On New National Cabinet

Govt of SA, 30 May 2019

Premier Alan Winde welcomes the announcement of President Ramaphosa's new, smaller cabinet but has expressed some concern at appointments made in key ministries. Read more »

South Africa: New Government: Compromise Over Renewal

Deutsche Welle, 30 May 2019

After days of speculation, South Africa's President Cyril Ramaphosa has formed his new government. His cabinet shows a clear intent of reform, but it also shows Ramaphosa's need to… Read more »

South Africa: Ramaphosa Names Cabinet for His 'Clean-Up'

Deutsche Welle, 30 May 2019

South Africa's President Cyril Ramaposa has picked a new cabinet that is largely devoid of the taint of corruption and incompetence and warned they will be 'closely monitored'. Read more »
InFocus
After a day of consultation, South African President Cyril Ramaphosa finally announced his Cabinet on Wednesday evening. David Mabuza and Pravin Gordhan will keep their positions ... Read more »

African National Congress (ANC) Brian Bunting branch member Phapano Phasha has called upon the party's Integrity Commission to flag Pravin Gordhan as "a risk to the reputation of ... Read more »