African Children Suffocating in Silence on #WorldEnvironmentDay
Only 6% of children in Africa live in areas where air pollution is reliably measured at ground-level, leaving half a billion children across the continent living in areas with no reliable means of measuring air quality, according to a new UNICEF report released on World Environment Day.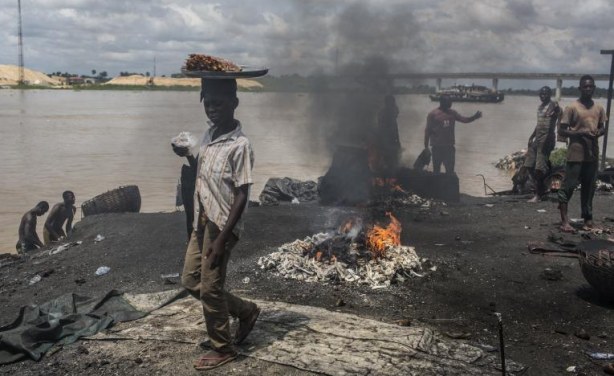 Children in Yenagoa, Bayelsa State, Nigeria pass in front of a flame fed by waste and rubber materials in order to make Kanda, a type of smoked meat, at an abattoir on October 24, 2016. The workers at the slaughterhouse use cow bones, rubber tyres, electric wires, aluminum cans and other waste to sustain the flames, making the fumes very dangerous to inhale.
Documents
Author:

UNICEF

Publisher:

Publication Date:

5 June 2019

Air pollution is a major killer of children, and accurately measuring air quality is the key to addressing this issue. However, there is a severe ... see more »
InFocus
There are urgent calls for countries and companies to stop burning fossil fuels as researchers estimate air pollution caused 8.8 million more deaths in 2015. Read more »

According to Greenpeace, highly detailed satellite data has revelead that Mpumalanga, South Africa is the world's "worst" air pollution hotspot on the planet due to its cluster of ... Read more »