South African Journalist Wins Court Case Against EFF
The Gauteng High Court in Johannesburg has ruled in favour of political journalist Karima Brown in a case against the Economic Freedom Fighters. The talk show host hauled the opposition party to court after receiving death and rape threats after EFF leader Julius Malema published her personal contact details on Twitter.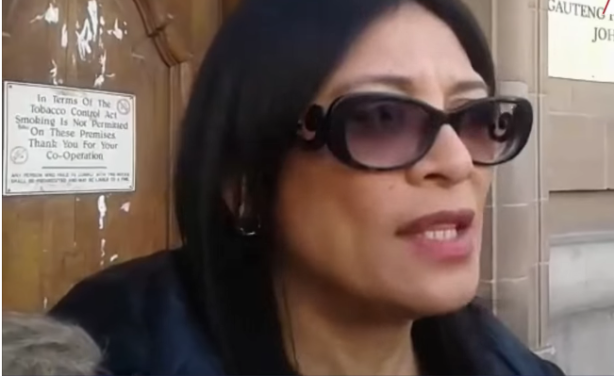 Video screenshot of Karima Brown.
South Africa: Journalist Karima Brown Wins Case Against EFF

News24Wire, 6 June 2019

The Gauteng High Court in Johannesburg has ruled in favour of political journalist Karima Brown in a case against the Economic Freedom Fighters. Read more »

South Africa: EFF v Karima Brown - Court Hears Journalist Is Unprofessional, Not Objective

News24Wire, 6 May 2019

The lawyer representing the EFF argued in the Gauteng High Court in Johannesburg on Monday that journalist and political commentator Karima Brown did not conduct herself in a fair,… Read more »

South Africa: High Court to Hear Karima Brown's Complaint Against EFF, Malema

News24Wire, 6 May 2019

The Gauteng High Court sitting in Johannesburg will hear the matter between political journalist Karima Brown and Economic Freedom Fighters (EFF) leader Julius Malema on Monday. Read more »

South Africa: Karima Brown Wants Malema Hauled to Court Over His Tweet

News24Wire, 26 April 2019

Talk show host and political commentator Karima Brown is hauling the EFF president Julius Malema to the high court, after she received death and rape threats. Read more »

South Africa: Journalist Doxxed By Economic Freedom Fighters Leader, Threatened

CPJ, 8 March 2019

The Committee to Protect Journalists today expressed grave concern about threats and harassment against veteran South African journalist Karima Brown--allegedly by supporters of… Read more »

South Africa: Karima Brown Vs Julius Malema - IEC Waiting On EFF for Answers

News24Wire, 20 March 2019

The Electoral Commission of South Africa (IEC) is engaging with EFF leader Julius Malema about a complaint relating to veteran journalist Karima Brown. Read more »

South Africa: Karima Brown Consults Lawyers About Taking EFF to the Electoral Court

News24Wire, 8 March 2019

Veteran journalist Karima Brown is consulting her lawyers about reporting the EFF to the Electoral Court for alleged misconduct and intimidation. Read more »

South Africa: Karima Brown Lays Charge of Intimidation Against EFF, Malema

News24Wire, 7 March 2019

Police are investigating a case of intimidation after veteran journalist Karima Brown opened a case against the EFF and its leader, Julius Malema, on Wednesday night. Read more »
InFocus
Violent cyber-attacks on journalists are in focus again following death and rape threats against radio and television anchor Karima Brown. Research has revealed that the EFF ... Read more »