Saraki - The Man Loved and Hated In Equal Measure Leaves Senate
"In all, Saraki led the Senate to pass important bills including the Electoral Amendment Bill, Petroleum Industry Governance Bill, Not-Too-Young-To-Run Bill, and the Police Reform Bill, and also made important interventions in policy and governance. But he will be leaving on a disappointing note, amidst unfulfilled promises, late budget passage and clear failure of the Senate to limit its cost. The Senate also failed to initiate badly needed policy framework and legislations to help an ineffective executive arm confront insecurity, unemployment, healthcare and education crises", writes Kemi Busari for the Premium Times.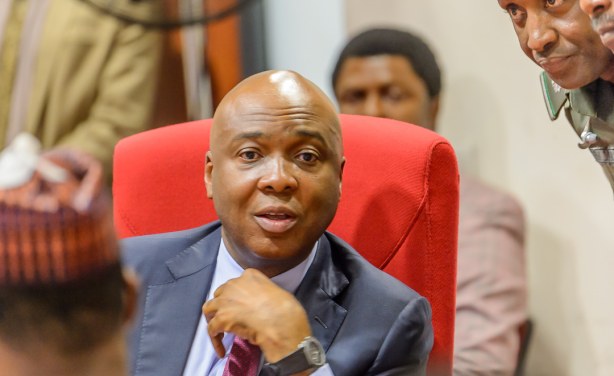 "The 8th Senate pursued its legislative agenda to reform the economy and build a country that creates opportunity for all. It is an honour to preside over this Senate" - Senate President Abubakar Bukola Saraki.
Nigeria: Outgoing Senate Head Saraki Gives Away His Severance Money

Premium Times, 9 June 2019

Nigeria's immediate past Senate President, Bukola Saraki, has donated his entire severance allowance to some victims of insurgency and a trust fund for the children of late… Read more »

Nigeria: Senator Praises Abacha, Compares Saraki to Late Dictator

Premium Times, 6 June 2019

The senator representing Ebonyi central, Obinna Ogba, has likened the leadership style of the outgoing Senate president, Bukola Saraki, to that of Nigeria's late military dictator,… Read more »

Nigeria: When Nigerians Cried Out for Help, We Did Not Turn Deaf Ears - Saraki

Vanguard, 6 June 2019

The 8th Senate, which was inaugurated on June 9, 2015 adjourned its legislative activities indefinitely after four years on Thursday. Read more »

Nigeria: Four Notable Bills Passed By the 8th Senate

Guardian, 7 June 2019

As the 8th National Assembly wraps up their four-year tenure of legislative duties, here are four notable bills the Red Chamber passed since its inauguration in 2015. Read more »

Nigeria: My Saddest Day As Senate President - Saraki

Premium Times, 6 June 2019

Nigeria's Senate president, Bukola Saraki, has said that April 18, 2018 was the saddest day of his tenure. Read more »

Nigeria: 8th NASS Most Persecuted, Harassed in Nigeria's History - Saraki, Dogara

Vanguard, 7 June 2019

Outgoing Senate President, Dr Bukola Saraki, and Speaker of the House of Representatives, Yakubu Dogara, yesterday, said the 8th National Assembly witnessed all-time persecution… Read more »

Nigeria: For the Record - Valedictory Speech of Senate President, Saraki

Premium Times, 6 June 2019

The eight Senate rounded up its session on Thursday with a valedictory session. Read more »
InFocus
Major contender for the Nigerian senate presidency, Senator Danjuma Goje, has withdrew from the race and declared support for Senate Leader Ahmed Lawan for the position. Goje says ... Read more »