Sudan Strike Suspended as Protesters, Military to Resume Talks
Sudan's opposition leaders have agreed to end their campaign of civil disobedience and resume talks with the country's military rulers. In turn, the Transitional Military Council has agreed to release political prisoners, Ethiopia's special envoy Mahmoud Dirir says. At the same time, UNICEF is saying that at least 19 children have been killed in the country, while Amnesty International says it has new evidence showing that government forces have continued to commit war crimes and other serious human rights violations in Darfur.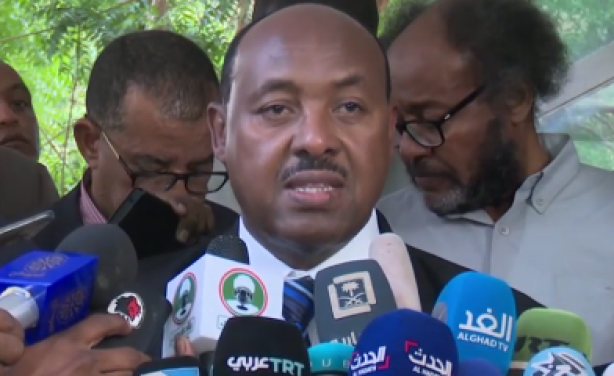 Mahmoud Dirir, the special envoy of Ethiopian Prime Minister Abiy Ahmed, talks to the media in the Ethiopian embassy in Khartoum on June 7, 2019.
Video
Publisher:

allAfrica.com [allAfrica] (Washington, DC)

Publication Date:

11 June 2019

More than a hundred protesters have been confirmed dead in Sudan after security forces opened fire and forced them from their sit-in in Khartoum. ... see more »
Sudan: Why Deadly Crackdown On Protesters Could Escalate in Coming Weeks

The Conversation Africa, 11 June 2019

Sudanese security forces violently removed a protest camp in the capital, Khartoum, on June 3. Read more »

Sudan: Children Killed in Escalating Violence and Unrest - UNICEF

Unicef, 11 June 2019

Statement by UNICEF Executive Director Henrietta Fore: "At least 19 children have reportedly been killed in Sudan and another 49 have been injured since June 3. I am gravely… Read more »

Sudan: Unicef Chief 'Gravely Concerned' Over Death of 19 Children Since Military Backlash

UN News, 11 June 2019

At least 19 children have reportedly been killed in Sudan and another 49 injured since a military backlash against protesters began earlier this month, prompting the head of the UN… Read more »

Sudan: New Evidence That 'Scorched Earth' Attacks Continue in Darfur

AI London, 11 June 2019

Amnesty International has disturbing new evidence, including satellite imagery, showing that Sudanese government forces, including the Rapid Support Forces (RSF) and allied… Read more »

Sudan: UN - Halt Handover to Abusive Forces in Sudan

HRW, 11 June 2019

The United Nations Security Council should halt the withdrawal of the UN-African Union peacekeeping mission from Darfur in view of the political instability in Sudan and continuing… Read more »
InFocus
With no end in sight for the military crackdown, the UN is calling for a "rapid deployment" of a monitoring team to look into allegations of serious rights violations, while ... Read more »

Sudanese police fired tear gas to disperse protesters in Sudan's capital Khartoum during a civil disobedience campaign to demand civilian rule. The Sudanese Professionals ... Read more »

Prime Minister Abiy Ahmed's mediation comes amid the suspension of Sudan from all African Union activities until the military rulers hand over to civilian-led authority. Read more »