Our Girls Need You - The Boko Haram Kidnappings Did Not End
Five years ago #BringBackOurGirls captivated people around the world after 276 Nigerian schoolgirls from Chibok were kidnapped by terrorist group Boko Haram. But while the international headlines and social media campaigns have since stopped, the kidnappings continue. More than a hundred girls were kidnapped from their school dormitory in Dapchi in February 2018, and dozens of women and children were kidnapped in March 2019. Without effective interventions and financial resources, how will Nigeria win the war against Boko Haram?
Nigeria: Our Girls Need You!

allAfrica, 12 June 2019

Five years ago, in April 2014, the world gaped in horror at the news that Boko Haram insurgents had swarmed out of the Sambisa Forest in northeastern Nigeria's Borno State to… Read more »

Nigeria: To End Boko Haram Insurgency, Treat Women Returnees Well - Report

allAfrica, 21 May 2019

How the Nigerian government treats the many women formerly associated with Boko Haram who have now returned to areas controlled by Abuja could play a role in ending the group's… Read more »

Nigeria: Leah Sharibu's Freedom Hindered By Boko Haram's Fear of 'Heavy Military Presence', Says Buhari

This Day, 13 April 2019

At the commemoration of the fifth anniversary of the kidnap of 276 Government Secondary School girls, Chibok, in 2014 Saturday, President Muhammadu Buhari in Abuja said various… Read more »

Nigeria: Chibok Girls - There's Still Hope for Their Return - Buhari Assures Nigerians

Vanguard, 13 April 2019

As the country marks the fifth anniversary of Chibok Girls, abducted by the dreaded Boko Haram terrorists, President Muhammadu Buhari, Saturday, assured Nigerians that they would… Read more »

Nigeria: #DapchiGirls Arrive Home, Reunite With Parents

Premium Times, 25 March 2018

The recently released schoolgirls are back in Dapchi to reunite with their family. Read more »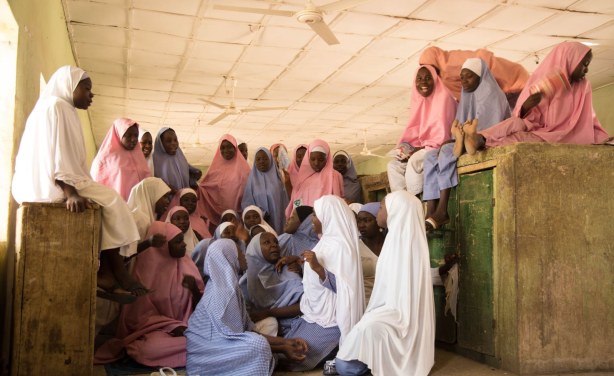 The Dapchi students went back to school after they were kidnapped (file photo).