President Ramaphosa in Hot Water Over R500,000 Donation?
South Africa's Public Protector Busisiwe Mkhwebane has reportedly confirmed in a letter to Democratic Alliance leader Mmusi Maimane that President Cyril Ramaphosa is implicated in her investigation into the R500,000 (U.S.$34,000) donation from Bosasa chief Gavin Watson. Ramaphosa said in a previous statement that the payment in question was actually a contribution that had been made to his ANC presidential campaign, of which he had previously been unaware.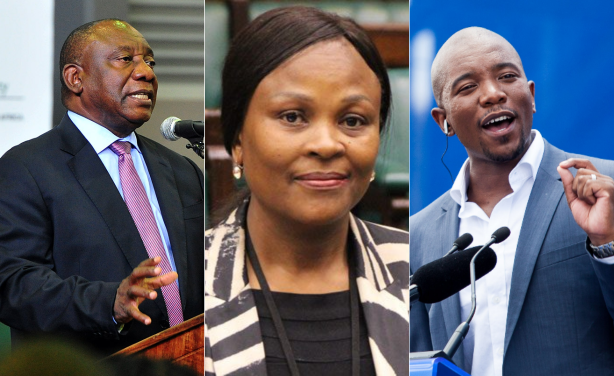 Left: President Cyril Ramaphosa. Centre: Public Protector Busisiwe Mkhwebane. Right: Democratic Alliance leader Mmusi Maimane.
InFocus
President Cyril Ramaphosa has refused to reveal the value of contracts his son Andile has with controversial company Bosasa which has been accused of involvement in state capture ... Read more »

Bosasa, a company that won government tenders to run prisons and youth detention centres in the country, has been exposed at the Zondo Commission of Inquiry into state capture. T Read more »

Revelations from Angelo Agrizzi's testimony at the Zondo Commission of Inquiry have revealed how journalists were allegedly paid to spin news about the embattled company at the ... Read more »