Celebrations and Hope for Equality After Historic Botswana Ruling
Botswana is the fourth African country to decriminalize homosexual relations, and the first to do so through the courts. The case removed Section 164 and 165 of Botswana's penal code, which was similar to anti-gay laws in other former British colonies. And while the high court's ruling is widely seen as a victory for gay rights, South Africa remains the only country on the continent with explicit legal rights based on sexual orientation.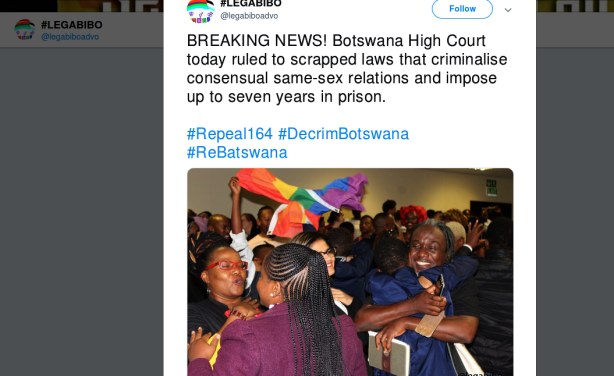 The Botswana Network on Ethics, Law and HIV/AIDS (BONELA) and Lesbians, Gays and Bisexuals of Botswana (LEGABIBO) have won their Botswana High Court case targeting Section 164 of the Penal Code. They said the law denies people the right to associate and to express their sexuality.
Africa: Botswana Homosexuality Ruling Raises Hopes for Equal Rights

VOA, 12 June 2019

Botswana's High Court on Tuesday overturned colonial-era laws that made gay sex illegal. Botswana is the fourth African country to decriminalize homosexual relations, and the first… Read more »

Botswana: Bachelet Welcomes High Court Decision Decriminalizing Same-Sex Relations

OHCHR, 11 June 2019

The High Court unanimously found sections of the Penal Code that criminalize same-sex relations to be unconstitutional and a violation of human rights including privacy, equality,… Read more »

Botswana: Ruling to Decriminalise Same-Sex Relations a Landmark, Says UN Expert

OHCHR, 11 June 2019

The ruling was made at the end of a court case challenging the constitutionality of parts of the Botswana Penal Code which criminalised same-sex sexual conduct between consenting… Read more »

Botswana: Factbox - 10 Countries That Have Decriminalised Gay Sex

Thomson Reuters Foundation, 11 June 2019

Botswana decriminalised homosexuality on Tuesday, with the High Court overturning a colonial-era law that punished gay sex by up to seven years in prison. Read more »

Botswana: 'A Victory in the Battle for Equality and Freedom to Love Whoever You Choose'

Deutsche Welle, 11 June 2019

The country's High Court has overturned a colonial-era law with British roots that could punish people with up to seven years in prison. Botswana's president had also signaled his… Read more »
InFocus
A High Court has ruled as unconstitutional, Section 164 of Botswana's Penal Code which criminalised same-sex relationships. Botswana joins Angola, Mozambique and Seychelles which ... Read more »