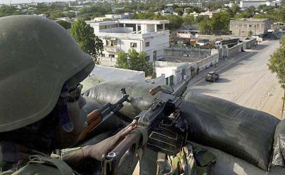 Photo: Siegfried Modola/IRIN
East African leaders have called for 20,000 troops to be deployed across Somalia to support the country's besieged transitional federal government.
In a communique released after a meeting which ended in Addis Ababa on Monday, the leaders also announced they would boost immediately the number of African Union (AU) peacekeepers in Somalia by 2,000, bringing the mission to its planned full strength of 8,100.
They repeated an earlier call on the United Nations Security Council, to convert the AU mission into a UN peacekeeping operation "without delay".
The communique was issued by the Intergovernmental Authority on Development (IGAD), which groups East African heads of state and government.
IGAD said its member states were committed to "unswerving support" to the transitional government and branded its opponents as "extremist and terrorist groups".
"The conflict in Somalia," the IGAD leaders said, "is not a conflict among the Somalis but between the people of Somalia and international terrorist groups." The insurgency represented an "escalating danger" not only for Somalia but for the sub-region.
They also supported the supply of resources and equipment to Somali forces from neighbouring countries, and called on AU member countries which had not contributed peacekeepers to give financial and material support.
Their meeting in Addis Ababa was chaired by Prime Minister Meles Zenawi of Ethiopia, and attended by President Yoweri Museveni of Uganda, President Omar al-Bashir of Sudan, President Ismael Omar Guelleh of Djibouti, President Mwai Kibaki of Kenya and President Sheikh Sharif Sheikh Ahmed, head of the Somali transitional government.