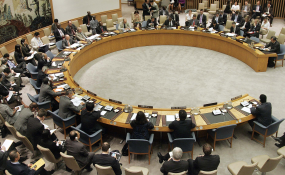 Photo: UN Photo/Devra Berkowitz
As French President Nicolas Sarkozy joined the international consensus that opposition leader Alassane Ouattara has won Côte d'Ivoire's presidential elections, the European Union hinted that the United Nations Security Council will take steps against President Laurent Gbagbo if he refuses to step down.
The French government-funded international news channel, France 24, reported Saturday that Sarkozy had told reporters in India, where he is on a state visit, that Ouattara's victory was "indisputable".
"There is an elected president in Ivory Coast," Sarkozy said. "The entire international community has recognized him."
He also called on civilian and military officials in Ivory Coast to "respect the wishes of the people and avoid any actions that could provoke violence," France 24 reported.
Sarkozy's statement followed similar declarations from United Nations Secretary-General Ban Ki-moon, the White House in Washington, DC, and the European Union (EU).
In a statement issued Friday, the EU's High Representative for Foreign Affairs, Catherine Ashton, joined Ban in congratulating Ouattara "on his victory."
She also called on "all parties to the electoral process to respect the will of the people and accept the results of the electoral process..."
She also noted "the Security Council's readiness to take appropriate measures against those who obstruct the peace process, and especially the work of the Independent Electoral Commission."