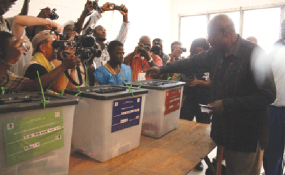 Photo: New Democrat
By Boakai Fofana
Monrovia — Flags are hoisted at street corners along Tubman Boulevard and past the Capital Building, the seat of the National Legislature, where President Ellen Johnson Sirleaf is being sworn in today for a second six-year term.
Preparations for the event have been under way for weeks, in anticipation of the large international presence, which includes visiting heads of state and dignitaries. Secretary of State Hillary Clinton is leading the U.S. delegation to demonstrate what the State Department describes as its "commitment to post-conflict return to peace, good governance, and economic development".
Also taking part are leaders of Liberia's opposition parties, including Winston Tubman who, after finishing second in October's presidential election, boycotted the November run-off. But following a meeting with the president on Saturday, Tubman announced in a joint press appearance that his Congress for Democratic Change (CDC) is now "ready to work" with the government to help unite the country and "move it forward".
The rapprochement with a determined challenger who questioned the election's legitimacy marks a significant moment in Liberia's history. From 1980, when Samuel Doe led a military coup that killed President William Tolbert and publicly executed 13 Cabinet members, and 2003, when a transitional government led to the first election of Ellen Johnson Sirleaf, Liberia was wracked by conflict. Hundreds of thousands of people died, and the majority of the country's three million people were displaced. Doe himself was assassinated, and a successor, Charles Taylor, was forced out of office by African and international pressure and is being tried for war crimes in the Hague.
President Johnson Sirleaf's first term was a welcome respite from that pattern of turmoil. But the CDC's refusal to accept the results of November's second round of presidential balloting - and subsequent violent protests by opposition supporters - stirred fears of renewed civil strife.
Tubman was accompanied to Saturday's meeting with the president by his running mate, George Weah, a soccer legend who Johnson Sirleaf defeated for president, to became Africa's first elected woman head of state in 2006. Weah's youthful, grassroots movement helped the CDC ticket take second place in October last year, with enough votes to force the run-off.
Party leaders had announced street demonstrations for inauguration day. However Tubman said he would be telling his followers that the reasons for protests "have now been overtaken by events." On Sunday Tubman said, "We recognize that Madam Sirleaf is the president of Liberia."

Johnson Sirleaf is widely credited with stabilizing the country and fostering development. A four-pronged poverty reduction strategy focused on economic revitalization, consolidation of peace and security, strengthening governance and the rule of law, and infrastructure rehabilitation and delivery of basic social services.
Despite strides in that direction, Liberia continues to experience widespread unemployment and illiteracy, along with broken infrastructure - problems which opposition candidates emphasized during the campaign. The government has unveiled an 18-year development plan called 'Liberia Rising 2030', which officials say will serve as a road map for addressing the social, political and economic challenges that confront Liberia on its path "towards economic growth and wealth creation."
Many Liberians are saying that to accomplish her ambitious goals, Johnson Sirleaf will have to add more firmness to the 'motherly sensitivities' she sometimes says she brings to the presidency. During her days in the opposition, she was dubbed the "Iron Lady" for her tenacity in the fight against dictatorial rule. But walking the streets of Monrovia today, you will hear such sarcasms as: "She's too democratic" or "She's too soft".
Whether partisans of political parties, hotel workers, school kids, or the disabled, Liberians seem to have found their voices, mounting or threatening one street demonstration after another. There is already widespread speculation about possible successors among the youngest and brightest members of her kitchen cabinet, who are said to be jostling for influence.The governing Unity Party will also have to take into account the continuing popularity of George Weah.
In an address earlier this month launching a National Policy on Decentralization and Local Governance, Johnson Sirleaf continued to insist that the days of an "imperial presidency" and "domineering" chief executive are over. At the same time, she gave the strongest warning yet to her Cabinet that abuse of power, administrative impropriety or corruption will not be tolerated. Contrary to past practice of asking officials guilty of wrong doings to resign, she dismissed a minister and a superintendent.
On Tuesday she signed an executive order putting into place a more stringent Code of Conduct setting out standards of behavior for members of the executive branch. "My responsibility will be to ensure compliance - or action in the absence of compliance," she said during the signing ceremony.
In keeping with the document's stipulations, the president announced that she will declare her assets following Monday's inauguration – as she did when she took office in 2006 - and she said all officials in her administration will be required to do the same.
By the time Sirleaf ends her second term in 2017, she will be the country's longest-serving leader since William V.S. Tubman, Liberia's 19th president, who died in 1971 and is the uncle of the CDC standard bearer, Winston Tubman.