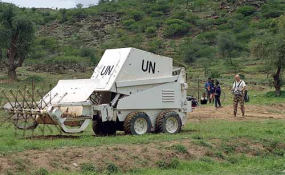 Photo: Jorge Aramburu/UN/DPI
Cape Town — Ethiopian troops mounted a raid into neighbouring Eritrea on Thursday and claimed to have destroyed "three mercenary camps".
The Ethiopian Defense Force described the incursion as a "counter-attack" after the killing of foreign tourists in Ethiopia by "Eritrea's mercenaries," reports the Ethiopian News Agency (ENA).
Eritrea's foreign ministry responded by saying the Ethiopians had attacked Eritrean army outposts near the border between the two countries in a "provocative attack" which "seems to have [been] chosen to coincide with the 10th anniversary of the arbitral ruling of the Eritrea Ethiopia Boundary Commission."
The rulers of the two countries, once allies, have been in a tense stand-off for the last decade after falling out and fighting a border war between 1998 and 2000.
ENA quoted an Ethiopian army spokesman, Colonel Gebrekidan Gebremariam, as telling journalists that its forces had "successfully annihilated the destructive force of the Eritrean government" in the areas of Ramid, Gelahben and Gembe. He accused Eritrea of "activity bent on destabilizing the peace and security of Ethiopia."
Eritrea in turn accused Addis Ababa of "incessant acts of aggression...
for the last ten years" and of "illegal occupation of sovereign Eritrean territories..."
An Ethiopian foreign ministry spokesman, Dina Mufti, told the London Financial Times that its attack on Thursday was "a proportionate act, we are responding to what the Eritreans have done," the Times reported.