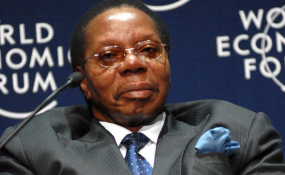 Photo: Photographer/WEF
By Andre Van Wyk
Cape Town — Malawian president, Joyce Banda, has stated that the country will investigate the death of its former president, Bingu wa Mutharika, despite his family's opposition, AFP reports.
In a report by Voice of America, Malawi's Information Minister, Moses Kunkuyu, said: "We are looking at the late Mutharika as a person who has been president of the Republic of Malawi, not as a family man.
"Government is concerned and government needs to know because Mr.
Mutharika was a head of state".
Kunkuyu continued, saying Banda's interest in investigating Mutharika's death is due to the lack of detail and confusion regarding the case, including the fact that three separate dates of death have been recorded.
"The president is not taking sides, but she wants the truth to be known because, as you know, no clear details are at hand on the death of the former president," Kunkuyu told Voice Of America.
Brother of the late president and former Malawi foreign minister, Peter Mutharika, has denounced the investigation, telling Voice Of America: "There are many presidents who have died in many countries. How many times has there been an inquiry by the government? Can you think of any case in Africa? This inquiry is nonsensical, and as head of the family I believe it is useless, it's a waste of time."
He also questioned the government's motivations for the probe.
Bingu wa Mutharika suffered a heart attack on 5 April and was flown to South Africa to receive treatment. He was pronounced dead on arrival several days later at a military hospital after some confusion over the state of his condition.
According to AFP, government statements insisted he was still alive despite reports to the contrary. Joyce Banda was inaugurated on April 7 as his successor.