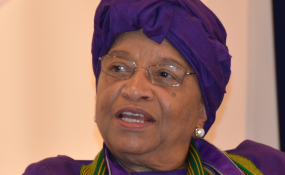 Photo: Tami Hultman/allAfrica
interview
Washington, DC — In the early months of her second five-year term, Liberian President Ellen Johnson Sirleaf says the post-conflict nation has made substantial progress but still faces multiple, inter-related challenges that need simultaneous attention. Education, health and agriculture will continue to account for major budgetary expenditures. At the same time, her administration has identified four areas for expanded, focused initiatives, aimed at making Liberia a middle-income country by 2030. They are infrastructure, youth employment, capacity building and national reconciliation.
Last week the president addressed a "Frontiers in Development" conference in Washington DC, hosted by USAID, the U.S. international development agency. Part of her agenda for the visit was forging a stronger bilateral relationship in support of the development goals reflected in the national budget, which is being circulated both online and offline in adherence to Liberia's open government policy. Minister of Finance Amara Konneh - one of the Cabinet members who accompanied the president - described the budget as incorporating "big ideas" for smart development and providing the basis for sustained progress.
"You can't improve health just by building clinics," he said. "You have to train doctors and nurses to staff them by investing in human capital. If you want farmers to get their goods to market, you have to build roads. And you should run fibre along those new roads, so we've included that cost in every road project. We must have energy, so we will restore and extend our hydro-power generation. And all this will put unemployed people to work."
But Konneh's arrival in Washington was delayed by a national security emergency - the worsening border conflict that had left seven United Nations peacekeepers dead in neighboring Cote d'Ivoire at the hands of Ivorian rebels and their Liberian allies. The Liberians were thought to be remnants of militia groups who still roam the dense forests in the border area. Human Rights Watch says the groups terrorise the local population, recruit child soldiers and profit from illegal mining. More than 13,000 people are reported to have fled their homes in the border area this month alone. On Thursday, a Liberian court authorized the extradition of 41 Ivorians, captured while crossing the border, to Cote d'Ivoire to stand trial.
President Ellen Johnson Sirleaf sat down last week to discuss all this with AllAfrica. Here are excerpts.
This conversation is meant to focus on your development agenda, but we must ask about the situation along the Ivorian border. Human Rights Watch has criticized your government for not apprehending and prosecuting those responsible for the violence. Doing that requires a trained and equipped police force, a functioning judicial system and cooperation not only between two countries but also between two UN peacekeeping forces operating in a remote, dense forest. Does any of that capacity exist? And does it make you tear your hair out thinking about it?

You know, we sort of relaxed. We knew that there were incursions taking place; intelligence had told us there were cross border movements. There were militia from the Ivory Coast, some of them joined by people from Liberia - they are the same ethnic group, as you know, and so we had put in place monitoring facilities. We had had meetings with our Ivorian counterparts - our defense ministers, our justice ministers. They had even planned - with UNMIL and ONUCI, the two peacekeeping forces - to start cross-border maneuvers on the 15th of June.
Unfortunately this happens. Not only were people crossing [from Liberia] and going into this [Ivorian] village of Tai and killing people - but then it escalated in the killing of peacekeepers. We have reacted to that and the first thing was close our borders. Unfortunately our immigration, our police are not armed. So we have also instructed our military, who are armed - to go in there. They are working with the two peacekeeping forces and with the Ivorian authorities, and the defense minister is meeting with his counterpart to see how we can boost the surveillance.
But we have long, porous borders and the forest, so even in the best of circumstances, you are not going to get every crossing point. I think we sent some very strong signals by arresting certain people - and that process is also underway - and by making sure that they do not get bail, and they go to jail.
The refugee camps are going to be put on strict surveillance, because there may be people from refugee camps to whom we are giving safety, who may be part of the cross-border movement. So we are going to do everything we can; that process has started.
President [Alassane] Oauttara [of Cote d'Ivoire] and I have talked. We are on the same page. He knows very well that Liberia is fully cooperating with him. We in the region realize that any insurgency or any attempt at instability in any one of our countries will affect all of us.
We are having a Mano River Union Summit in Conakry [Guinea] as soon as I get back [June 15]. Liberia is very, very seized with this situation, and we know that we have to do something to address it, working cooperatively, of course, with Cote d'Ivoire and with the UN system.
You have said that when you travel you always have an agenda for Liberia. What is it on this trip? What do you want, and have you been able to accomplish it?

Well, I came to participate in the Frontiers in Development Conference of USAID, which is producing some innovative ways to provide assistance. I hope it is going to stress 'output accounting', where countries will ensure that they get results as a condition for getting aid -and that the aid will go through our systems and institutions. At the same time, we must ensure that we build systems and institutions that will enable us to get the best result.
I am using the opportunity of being here to continue my consultations with the U.S. government. I spent a couple of days on the Hill talking to Congress; talking with Secretary [of State Hillary] Clinton and her staff; and people at the Millennium Challenge Corporation; with USAID [administrator] Rajiv Shah and his group, informing them of our new development agenda, our priorities.
We are giving them a snapshot of where we've come in stabilizing the economy and stabilizing our peace, and of our institutional development effort - and getting their support as we move to what we call the transformation phase. That is the hard part, you know - making sure that everyone is performing well, that our institutions are performing, that all Liberians participate, that we promote democracy.
There is a strong historical relationship between the United States and Liberia. There was a joint economic commission in the 1950s. Can you get back to that robust level of cooperation?

I am glad you mentioned that, because indeed we are asking the United States to consider a bilateral commission. We raised this with Vice President Biden, we raised this with Secretary Clinton, and we raised it on the Hill. We pointed out that there is a precedent not only in Liberia, many years ago, but a recent precedent with Nigeria. We need to go beyond the personal relationships that I have been fortunate to develop here, and to ensure that the Liberia-U.S. relationship is institutionalized. I think we got some good responses to that, and we need to work on bringing that to fruition.
In the African context, in January you assumed the chair, from founding chair President Jakaya Kikwete of Tanzania, of the African Leaders Malaria Alliance (ALMA). Kenya, which increased distribution of bed nets from 6% of at risk children to over 60%, has reduced malaria deaths of children under five more than any other country. Can Liberia achieve similar results?

We need to try. Malaria continues to be a major health problem for Liberia.
A survey is now on going to show where the child mortality rate has dropped. We think it has dropped. There was an Economist report that seemed to show that the rate was going up, and we were very concerned about that. But we concluded that, in fact, it was better reporting of cases.
It is not only the bed nets that we need, as important as they are. We also need education about better sanitation, and we need to have proper treatment for malaria, when it does occur, through our clinics that are now all over the country.
We have a scorecard, the ALMA Scorecard, that shows all the indicators and where all our countries stand. I am continually looking at that scorecard to see where we are showing green, red, yellow - and trying to put extra effort into it! I hope that some of the efforts we have made will begin to show results in the next year, and we are anxiously awaiting the survey to show what progress has been made.
At the Frontiers in Development conference, you mentioned some improvements in maternal health. But 770 deaths for every 100,000 live births is still painful...

Unacceptable. It's unacceptable.
What can you do about it?

Part of it was the lack of access to health facilities, because of bad roads, and we are improving them. It's also the capacity, of midwives because many of the births take place in rural areas through midwives, many of whom have not been trained. So there is a training program to get the midwives to know and use referral systems, so that when they get difficult cases they can refer them to the nearest health clinic.
Again, a survey on that is also being done, because those are two indicators that continue to worry us. Child mortality, maternal mortality - that puts us way down the bottom of the Human Development indicators. But let's see when the survey comes, what else we can do.
I believe, as I said that better reporting has affected our numbers. But we hope the measures we have taken to improve access, to improve the qualifications of health workers should begin to show some positive results.
And births are usually spaced so closely. Is access to family planning an issue that Liberia needs to think about?

Yes. Access to family planning and more education. Part of the problem we have is the retention of girls in school. Teenage pregnancy has become a problem. These are real challenges we face, now that we have taken care of the bricks and mortar - getting the economy functioning, building institutions, passing laws, developing strategies. How do you use them to transform the lives of people? That's really the difficult part.
Is that what you're trying to do with your planning towards 2030?

The long-term development agenda, while continuing our programs in education and health, seeks to establish clear goals in additional areas.
One priority is youth employment. What do we do with thousands of young people who have been bypassed by education and who have no skills? How do they benefit from the foreign direct investment that we have mobilized, where jobs will be created.
A second priority is infrastructure - the focus on roads, power, ports. Without greater mobility, without roads, we can build clinics and schools, but if people can't get to them, that's a problem.
Our hospitals and clinics can have all the best medical equipment but if there is not reliable power, they can't be used effectively.
And unless the operations of our concessionaires - whether in agriculture or mining or forestry - unless their output of products can be sent through ports that are functioning, we will never get the full results.
Those are what we call the "hard" targets.
A "soft" priority to continue to pursue is reconciliation. We will continue to promote good governance, and rebuild the capacity to achieve justice. Our judicial system still has a long way to go.
That lack of capacity of the justice system has been one of the issues in national security, including securing the borders, hasn't it? If you can't amass enough evidence against people and you don't have ways to try them, and you don't have people trained in procedures for who stays in jail and who is released and who is charged - that is hard stuff.

That is one of the areas where we have not reached the level of success that we have aimed at. The court system needs to be much more effective, and capacity is an issue. Compensation and incentives were an issue; we think we have done something to address that.
The capability for proper evidence gathering, for prosecution, is still limited. We have training now through a judicial institute that has been established. Education and training take time, so we're hoping that we will be able to see better results in the next couple of years. We are going to be focusing on that.
We were trying to focus on building the systems, developing the institutions, putting in the preventive measures - and now we have to move on to how to punish those who commit crimes or those who violate the public trust.
And how is your progress on food security?

We are not there yet. We are still a net importer of rice, which is our main staple but we have do have a very robust agriculture program.
The focus is on small farmers, and there is a major decentralization of our agriculture support system to farmers. Providing seeds and tools to farmers and to cooperative farms is now in its third year. That is encouraging the production of rice and some of our other staples. Production of cassava and other pulses and greens is really up.
As a matter of fact, an indication of success in this regard is that today the World Food Programme no longer brings in imported grain! They now buy the grain, they buy rice, particularly from women farming cooperatives, to be used in the school lunch feeding program. That to us is a major indicator of success.
Do you think that you can do some bold initiatives in your second term that you might not have been able to do, politically, in your first term?

I have to. It's not a question of "do I think I can" or "I should'. I must.
One of the first things we have done is to say to all our ministers that they are going to sign one-year performance contracts. They are going to say what exactly they will achieve in that one year, what will be their precise output - quantifiable outputs - and we will hold them to it. They have accepted the fact that after one year we will have a performance evaluation.
Those who measure up will move on and help to consolidate the gains they've contributed. Those who do not measure up will be asked to leave so that we can find replacements that will be able to achieve the targets.
But that is just one thing. We still need to do other bold things.
We have to solve the land issue. That is another major problem for us - the land tenure system. Illegal land sales over many years, squatters, and what not - that may require major dispossession of those who have held lands and left them undeveloped or unused. Large concessions that were granted, acres of land beyond their needs, we will have to have them relinquish it.
Community rights to land, community rights to the natural resources that are in their areas - we are going to have a major departure from the way things were done in the past. I hope that will strengthen the feeling of ownership, the feeling of people and communities having a stake in the future, because we will be recognizing the rights of people much more than we have in our traditional and historical past.
Are you harnessing the potential of the sizable Liberian diaspora?

We continue to say that the Liberian diaspora, as diaspora everywhere, play a very important role. Their remittances to support their families; their institutions and their causes can be significant. But beyond that is their contribute to ideas and to our policy and program interventions.
We have an active repatriation program, and I would like to see people from the diaspora come back and join their fellow citizens in trying to rebuild the country.We would like to see those who cannot come home immediately have programs where they can render service for periods of time.
So our long-term development agenda has a robust consultative process of taking it to all the villages - but also to the diaspora. They will have an opportunity to have an input into our long-term strategies, and I hope that will make them feel that they, too, own it, and they, too, are a part of it.
In that spirit, does Liberia want to become a laboratory, a model, for open data, for transparency, for making information available to people?

Absolutely! We're already on that road.
For example, we just presented our budget to the legislature, and immediately after there was a town-hall meeting when the budget was presented to the public. It is online. It's up there now for public discussion.
We're going through the reform of the petroleum exploration process, and that is also up for public disclosure. It is all made available to the public: these are the laws; these are the agreements that have been signed; these are the policies. There are some inconsistencies in the policies and the agreements, and those inconsistencies are recognized and are openly discussed. We've said, 'This is what we intend to do about it to fix it. This is how we can correct it' - and I think that is being appreciated.
So with all the talk about oil that is going on, I think the public now understand that we have new people there to manage the reform, to carry it out so that the things that are insufficient, things that need to be corrected, can be done by a team that has clear instructions and full commitment to make sure that those reforms take place.
As a result, we have people now coming and saying, "Liberia truly is reforming, Liberia can be a model.
There are countries ahead of us too, and we are learning from their example - the example of Ghana and other countries that have gone a reform process. We are working with Norway and Sierra Leone in a tri-partate arrangement. We'll see how they have preserved resources for future generations, and see how we might be able to apply and copy some of those measures.
So our transparency and accountability commitment is very strong. We're very serious about it, and I hope the public and everyone else will see the results of that.