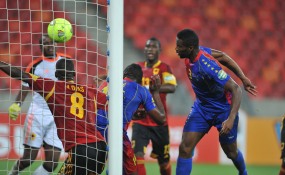 Photo: Luigi Bennett/Backpagepix
By Nick Said
If Angola are to advance to the quarter-finals of the 2013 Africa Cup of Nations then they have to beat Cape Verde in their final group C clash in Port Elizabeth on Sunday.
It is a simple equation for Palancas Negras (the Black Antelopes), who have so far garnered just a single point from their first two matches - an unlucky draw with Morocco and a 2-0 loss to hosts South Africa.
But even a win might not be enough if Morocco defeat South Africa in their clash in Durban being played at the same time.
Angola currently sit bottom of the pool with that one point, with Morocco and Cape Verde above them on two. South Africa have four points, but cannot be overtaken by Angola as pool positions are determined on head-to-head results rather than goal-difference.
There is no need for calculators though for Angola coach Gustavo Ferrin. Just win and you give yourself a good chance of going through.
He has been receiving advice from all and sundry following Wednesday's loss to South Africa, with the call coming for the likes of veteran stars Gilberto and Djalma Campos to be included in the starting line-up.
It is likely that Ferrin will make changes; the midfield was too ponderous against Bafana Bafana, offering next to no service to star striker Manucho.
Gilberto in particular would add some guile, but with the coach having already set out his plans to blood youth in this tournament, it would be a climb-down of sorts to go that route.
Cape Verde know that a win will get them into the quarter-finals, a dream come true in their first appearance at this level.
Should they draw this game, they will have to hope that South Africa beat Morocco, or that if both games end in a draw, theirs has more goals scored in it. Should that stat be the same, it will then go down to who has the better disciplinary record and, finally, the drawing of lots.
The Blue Sharks' coach Lucio Antunes says he was surprised by the limp showing of Angola against Bafana, believing they will be an improved outfit on Sunday.
"The real Angola is certainly not the one who played with South Africa," he says. "I know the team is capable of doing much more than they showed in the last round.
"Angola also has its chances [to qualify], but we'll try to play our own game to achieve our objectives."
The coach then made a passionate, if slightly naïve, assessment of Cape Verdian football, talking up its virtues in the world game.
"Cape Verde players should be playing in English teams like Chelsea and Manchester United, Milan in Italian, and Real Madrid and Barcelona," he said.
Failure on Sunday would make a mockery of that remark, though after draws against South Africa and Morocco in the tournament so far, they will still look back on this competition as a success.