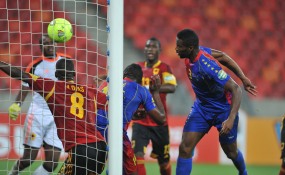 Photo: Luigi Bennett/Backpagepix
By Nick Said
Cape Verde's historic passage through to the quarter-finals of the 2013 Africa Cup of Nations is one of the great stories in the history of the continental showpiece.
For an island nation of just 500,000 inhabitants to reach this stage is an incredible achievement, though that fact is slightly misleading in that some of their players were born outside the country, some never setting foot on the islands before their first call-ups. There are, reportedly, more cape Verdians living outside the country than in it.
But this takes nothing away from the achievement, or the fighting spirit of the side in coming from behind to defeat Angola in Port Elizabeth on Sunday to book their passage.
Such was the joy of coach Lucio Antunes that he broke out into song in the post-match press conference, belting out 'The Biography of a Crioulo', a melody of celebration in his homeland.
"We achieved our objective, we knew it was going to be difficult but we kept at it," Antunes said. "We knew what was happening in the other match between South Africa and Morocco and that's why I told the team to attack until the end and it paid off. It also started raining and that blessed our effort."
For Angola, it was the second time in as many Africa Cup of Nations finals tournaments that they have thrown away the opportunity to reach the quarter-finals.
They were leading 1-0 in this fixture until the 81st minute and had they held on, the result in the other pool match between Morocco and South Africa, a 2-2 draw, would have seen them through.
Instead, some dire goalkeeping from Lama gifted Cape Verde two goals and Palancas Negras, who have been training for this tournament since early December, go home having failed in their mission.
"The only option for us was to attack and I did the right thing tactically," coach Gustavo Ferrin said after making five changes to his side for the fixture. "It was a very dramatic ending and I am very sorry we lost.
"We might not have gone through even if we had won tonight but we did not want to lose the game. The only thing I might have done differently was pick some taller players to deal with the Cape Verde big men at the set pieces. That's how they were going to score their goals."
Cape Verde finished second in Group A and will now await the results in Group B on Monday to see who they will face in the next round. It is likely to be the Black Stars of Ghana, unless they slip up against Niger.