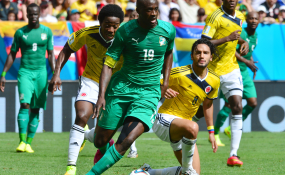 Photo: Gavin Barker/BackpagePix
By Nick Said
Sabri Lamouchi admits his time with Cote d'Ivoire is up after the side were bundled out of the World Cup on Tuesday night with a late defeat to Greece.
The former France international has accepted his fate and believes that he has taken this team as far as he can.
Football showed its cruel side once more in the Elephants' defeat. They were just two minutes from making the second round before Serey Die was adjudged to have fouled Giorgios Samaras in the penalty area.
If there was contact it was minimal, but Samaras picked himself up to score a winner for the Greeks, making the score 2-1, and instead it is they who are through to the Last 16.
"My contract ended at this World Cup. It won't be renewed and you can understand why," Lamouchi told reporters. "It makes sense given we came up short at the Africa Cup of Nations and at the World Cup.
"I gave it my all for two years but my time with Côte d'Ivoire comes to an end tonight unfortunately. I really enjoyed my time with this team and I was very proud to represent this great nation."
Lamouchi says, despite the cruel fashion of the defeat, Greece deserved their victory on the day.
"It was a cruel way to lose, but the Greeks did enough to win. We were one minute away from a famous result but the small details are what decide games at this level. I'm very disappointed and frustrated."
In truth, this was a group that the Ivorians should have got out of.
Compared to other African teams they faced relatively modest opposition.
But from the start against Greece they looked nervous, tentative and failed to attack with the same kind of penetration they had shown against Japan and even in defeat to Colombia.
In many ways they invited the defeat, appearing to believe that a point would be enough and playing for the draw.
In the end they were right, but by sitting back and not tackling the win, they allowed Greece, who hit the frame of the goal three times, to put them under pressure.
First-round defeats in 2006 and 2010 could be explained by the fact the Elephants were in tough groups where they were given little hope.
This one will sting the most because they have simply underachieved, not played to their potential and, to be frank, let themselves down.
Instead it is Greece who celebrate a first-ever second round showing and coach Fernando Santos believe is is well deserved.
"The best team won; the one with the best strategy, most desire and most chances on the night," Santos said. "We scored twice and hit the bar three times. The win was deserved and we showed what we can do.
"In the first two matches we weren't focused, which is usually our great strength. We showed we know how to attack too. I told the players this morning this would not be our last match.
"We are very happy and know that everyone in Greece is delighted."
Greece will now face Costa Rica in Recife on Sunday, a game they will feel is another they can win.