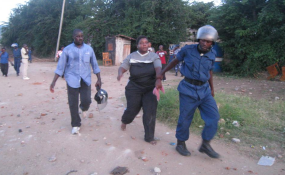 Photo: RFI / Esdras Ndikumana
The United States government has publicly spoken out against the reported ambition of Burundi's President Pierre Nkurunziza to stand for a third term in office.
The U.S. special envoy for the Great Lakes Region, Russell Feingold, suggested to journalists during a telephonic media briefing on Tuesday that prolonging Nkurunziza's stay in office could threaten the country's stability and discourage new investment.
He said although there was a provision in Burundi's constitution which could be interpreted as allowing a third term, using this provision would be a breach of the Arusha Accords, the agreements which brought to an end Burundi's civil wars of the 1990s.
"The Arusha Accords have been the foundation of a decade-long period of relative peace and stability in Burundi," Feingold said.
Quoting from the accords, he said they stated specifically that "no one may serve more than two presidential terms" and were key to the country's "still fragile stability... in the near term". The U.S. urged the government to ensure that presidential elections followed the spirit of the agreements.