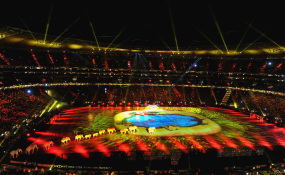 Photo: 2010 FIFA OC
Cape Town — The world soccer governing body, FIFA, is now describing a U.S. $10 million payment by South Africa to members of its executive committee as a bribe to secure the 2010 World Cup.
FIFA effectively agreed with American prosecutors that the payment was a bribe when the body submitted papers to a New York court in a bid to reclaim money which it said was "pocketed illegally by corrupt FIFA members and other football officials."
FIFA said that in 2004, Caribbean football boss Jack Warner and U.S. chief Charles Blazer were offered a bribe of $1 million by Morocco in an attempt to have the tournament awarded to North Africa. But Warner and his family had already established close ties to South Africa during that country's failed bid to host the 2006 World Cup.
For example, Warner's son, Daryan, had "served as his father's bagman, traveling to a hotel in Paris, France to receive a briefcase with $10,000 in cash from a high-ranking South African bid committee official..."
FIFA added that later, Warner's "strong illicit ties to the South African bid committee" led to the South Africans offering "a more attractive bribe of $10 million in exchange for Warner's, Blazer's, and a third executive committee member's votes.
"Warner and his co-conspirators lied to FIFA about the nature of the payment, disguising it as support for the benefit of the 'African Diaspora' in the Caribbean region, when in reality it was a bribe."
In a statement issued with the court papers, FIFA said it estimated overall that "at a minimum tens of millions of dollars were diverted from the football community illegally through bribery, kickbacks and corrupt schemes..."