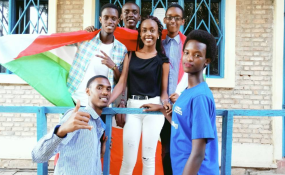 Photo: First Global
Six Burundi teenagers who travelled to Washington, DC in the United States to take part in a robotics competition were reported as having gone missing after the competition was over.
But the circumstances surrounding their disappearance suggest that at least some may have left the competition venue seeking to stay in North America.
The Washington Post reported on Thursday that Burundi's team was reported on Wednesday as being "missing" after the closing ceremonies of the competition on Tuesday afternoon.
But police in Washington told the Post that two team members – Don Charu Ingabire, 16, and Audrey Mwamikazi, 17 – had gone to Canada and were safe
there.
"The four others also are believed to be in safe hands," the Post reported, "but authorities declined to provide further details."
The team was competing in the FIRST Global Challenge robotics competition, in which young people from 157 nations took part.
The other four members of the team are reported to be Richard Irakoze, 18, Kevin Sabumukiza, 17, Nice Munezero, 17 and Aristide Irambona, 18. The Post said the FIRST Global organisations reported on Wednesday that an adult mentor could not find the team members.