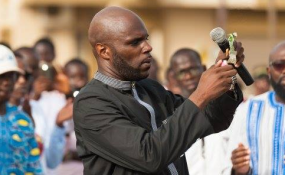 Photo: Kémi Séba/Page Facebook
Cape Town — A pan-African activist campaigning for an end to the use of the French-backed Franc CFA has been thrown out of Senegal. Kemi Séba, a Beninoise born in France, was arrested for burning a 5000frs note in protest in August. He was set free by the courts but the government decided to expel him from the country with immediate effect.
The decree was the last act of governance by Prime Minister Mahammed Boun Abdallah Dionne who resigned shortly afterwards. The State says his presence was a serious threat to public order.
His collaborator Héry Djéhuty does not agree with this. "Calling it a disturbance of public order means the public order in question does not guarantee equality and welfare of the Africans," Djéhuty said.
Séba's lawyer, Khourreisy Ba, who had tried in vain to stop the expulsion accompanied his client to the airport. Ba says the decree came as a "surprise and a shock" but believes his client is tough and will survive.
Gathered at the Dakar airport, civil society members wearing anti-government T-shirts vowed to continue the struggle.
The spokesperson for civil society group THIAT DE Y EN A MARE, Malick Noel Seck, says it's a shame for the Senegalese people and proves that President Macky Sall is still colonized by the French.
According to Seck, the currency keeps people in bondage and means the economy is controlled from Paris. "The government will always do what Paris decides so the fight must continue. Why was Kemi Séba repatriated to France if he is a Beninoise and an ECOWAS citizen?"
Translated from French by Michael Tantoh