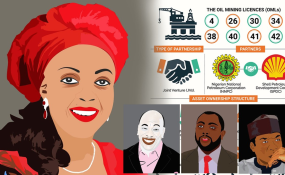 Photo: Premium Times
Blog
By Melody Chironda
Cape Town — Diezani Alison-Madueke, served under former president Goodluck Jonathan from 2010 to 2015 and was Nigeria's first female minister of petroleum resources. She has been accused of corruption and misappropriation of the country's funds during her administration.
Since leaving office in 2015, Alison-Madueke has been implicated in bribery, fraud, misuse of public funds, and money-laundering cases in Nigeria, Britain, Italy and the United States.
The former minister is alleged to have stolen at least U.S.$90 billion from the state. Do you know how much US.$90 billion is?
The Acting Chairman of the Economic and Financial Crimes Commission, Ibrahim Magu, described the assets recovered from embattled former minister, as just the beginning.A string of court ordered forfeitures has already began after the Economic and Financial Crimes Commission applied to the courts to reclaim the money and the property on behalf of the government.
The anti-graft agency has discovered two mansions allegedly owned by former minister of Petroleum Resources, Diezani Alison-Madueke. The agency has also traced about U.S.$1.5 billion, believed to be proceeds of crime, to a Swiss account as part of the ongoing probe of Diezani Alison-Madueke. A Federal High Court sitting in Lagos ordered the interim forfeiture of 56 properties allegedly bought by former minister of petroleum resources Diezani Alison-Madueke between 2011 and 2013. The order came two weeks after the anti-graft agency said it had traced N47 billion and U.S.$487.5 million to former minister.
The UK's National Crime Agency has frozen properties valued at £10 million allegedly bought for the former minister of petroleum resources Diezani Alison-Madueke. Two properties located at Regents Park, along with one in Buckinghamshire, have now been frozen based on the request of Nigerian authorities.
Prosecutors in Lagos began proceedings to recover U.S.$1.76 billion of assets owned by Kola Aluko and Jide Omokore, whose companies were awarded oil contracts by Alison-Madueke. The documents alleged that companies owned by the businessmen were awarded these lucrative contracts despite being "unqualified" to execute them. Kola Aluko has since been on the run and his luxury apartment has been confiscated.
No honor among thieves?
Despite being alleged co-conspirators, recorded conversations suggest hints of a fractured relationship between Alison-Madueke and her 'co-conspirators'. In one such conversation, Alison-Madueke pushed back against a possible blackmail plot by threatening to "bring everything out" and ensuring everyone in the plot goes to jail. The ex-oil minister recorded their deal-making conversations herself and the U.S. authorities shared transcripts in their suit. Based on a transcript of the recordings, Alison-Madueke appeared to be wary of Aluko and Omokore's lavish spending. She asked them "to be a bit more careful" to avoid scrutiny.
However, the embattled former minister said she never stole the money. The former minister claimed that although she cut the subsidy bill of the country by almost 50 percent and put her life under immediate threat, she was still accused of taking bribes. The former minister who has been in London since the birth of President Muhammadu Buhari's administration has however continued to deny any financial misdeed. She insists she is being severely maligned and persecuted by the EFCC.