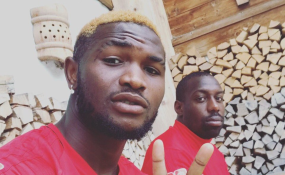 Photo: Isaac Success/Twitter
By Jerry Chifamba
Cape Town — Nigerian international footballer and Watford forward Isaac Success has reportedly been arrested after a quarrel with four escorts, accusing them of cheating him out of U.S.$2,600, according to The Sun.
The Premier league footballer is alleged to have paid the escorts U.S.$600 each after spending the night at a lap-dancing club in London's West End in September.
The escorts claim he later demanded his money back in a heated row accusing them of "ripping him off".
"He claimed we'd cheated him out of the cash, without mentioning the reason why he didn't have sex," one of them is reported to have said.
Success was later arrested in the hotel after police were called and an allegation of assault was made, the report says.
Police have confirmed that an allegation of assault was reported although they didn't want to confirm the name. He was released pending investigations.
The Nigerian footballer, who earns over U.S.$39,000 a week, has scored just once in 19 Watford appearances.