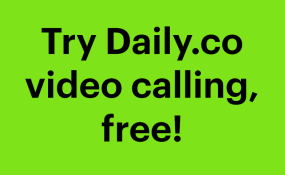 Photo: Daily.co
announcement
Washington, DC — AllAfrica has been beta testing a free video conferencing service that greatly enhances our work, and we want to share this with media colleagues across Africa – and to try it out for a new initiative that many of you have asked us for – collaborative content production that will provide original African reporting to news organizations around Africa.
AllAfrica connects our staff across Africa and in the United States, and we interview news sources around the world using this service - Daily.co. As many as 50 parties can be connected at any one time, just by clicking a link.
You can try it for free; it's reliable and easy to use. You can have video conferences and conversations using a Chrome browser on a desktop or laptop. You can have audio conversations using mobile phones and also can join a video meeting via dial-in.
There is no download or installation required! It works for personal use or to connect teams – with a custom URL.
Our URL is allafrica.daily.co, and we have meeting rooms for several staff and various offices. (We are located in Dakar, Cape Town, Abuja., Nairobi and Washington, DC.)
Sign up: https://www.daily.co/