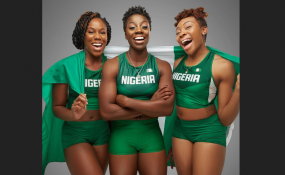 Photo: BSFNigeria/Instagram
By Melody Chironda
Team Nigeria has made history as the first African nation to finish their first run in the women's bobsled at the 2018 Winter Olympics.
According to NBC's Olympics website, Team Nigeria finished their first run in 52.21 seconds.
The bobsled team - comprised of Seun Adigun, Akuoma Omeoga, and Ngozi Onwumere - are making history at the 2018 Winter Games as the first Africans to compete in bobsled. Nigeria's Simidele Adeagbo is the first African woman to compete in the Skeleton competition.
Nigeria is one of eight Africa countries participating at the games in Pyeongchang. Other athletes are from Eritrea, Ghana, Kenya, Madagascar, South Africa, Morocco and Togo.
No African nation has won a Winter Olympics Medal.