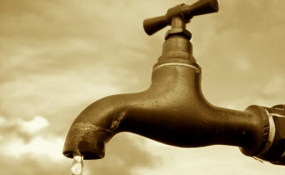 Photo: The Herald
By Jerry Chifamba
Cape Town — Mozambique authorities have announced a return to water restrictions of 2017 due to the scarcity of water in the Pequenos Libombos reservoir, Verdade Online reports.
"We are going to retake those burdensome restrictions that we had introduced last year," said Gildo Timóteo, Director of the Water Production and Support Area of the Maputo Region, at a joint press conference, according to the report.
Timóteo revealed that because of the restrictions that were introduced in January 2017, many of their customers have increased their own water storage capacities with tanks, the report says.
Chiango neighborhood, Mahotas, Maxaquene, Mafalala, Tsalala, Malhampsene, Jonasse, Juba, Picoco, Matola J, Matola H, Mussumbuluko, Bunhiça, T3, Siquama and Massaca districts will face a greater shortage of drinking water as they are far from the water distribution centers of the Maputo Region.
Verdade Online reports, Maputo Water Administrator has called on the Maputo people and Matolans to stop vandalizing the distribution network adding that the tanks which were supplied in Umbeluzi and distribution centers of Matola and Chamancula may continue to be supplied. He also urged the public not to waste water.
Southern Africa has experienced a severe drought in recent years, with Cape Town in neighbouring South Africa facing the prospect of having to turn its taps off in July. The city now restricts residents to 50 litres per day.
The water scarcity has forced South Africa to declare the drought a national disaster.