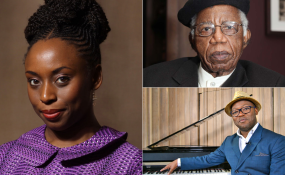 Photo: allafrica.com
Blog
By Melody Chironda
How are you celebrating World Book Day?
The one-day festival is celebrated in over 100 countries all over the globe. This year's theme is, Share A Story, and adults, parents and older siblings are encouraged to participate by reading and sharing stories.
Books allow us to dream, imagine and shape the way we think and feel. So if you are like me, always with my nose in a good book, then here are some of my great classic African reads I recommend ...
Chinua Achebe
You may have heard of Chinua Achebe - the great man - that gave Africa a voice. So if you have time, grab his novel, Things Fall Apart. His novel has been recently listed as one of the Greatest Books Ever Written on the website of the Encyclopedia Britannica. The novel follows the life of Okonkwo, a wealthy and fearless warrior in the Igbo village, as his community falls under British rule, colonialism destroys their traditions, and he is resistance to change. The novel sold over 12 million copies and was translated into more than 50 languages. This is a must-read and considered to be one of the most important pieces of African literature. There is no better way to honor an iconic author than by reading his work.
Chimamanda Ngozi Adichie
If you have a chance, grab Chimamanda Ngozi Adichie's Half the Yellow Sun. The award-winning author is part of a new generation of African writers taking the literary world by storm. She has a few of good reads attributed to her name. Interestingly, her novel explores the Biafran War that was so central to Chinua Achebe's literary projects. Adichie may not have lived through the civil war, but her imagination seems to have been profoundly molded by it. Truth be told, I knew very little about Nigeria at all but this novel gave me insight into the war. To put icing on the cake, her book was adapted into a movie. So I would suggest, read the book, watch the movie, thank me later ...
Mariama Ba
I must admit that there are some great books that I also missed, like Mariama Ba's So Long a Letter. Mariama Ba was a Senegalese author and feminist, who wrote in French. In her novel So Long a Letter, she uses her own life to create a narrative portraying her frustration with the fate of African women. The novel exposes the suffering caused to women by polygamy. In the novel, she depicts the sorrow and resignation of a woman who must share the mourning for her late husband with his second, younger wife. The novel is often used in literature classes focusing on women's roles in post-colonial Africa. It surely is a must-read book.
Ngugi wa Thiong'o
Ngugi wa Thiong'o is one of the most celebrated African intellectuals and writers. He has written many good novels which include Weep Not, Child, The River Between and A Grain of Wheat. But my favourite has to be I Will Marry When I Want. I studied the whole book for my A'Level literature in high school.
I Will Marry When I Want is a play that portrays life in pre-and post independence Kenya, and brings to light the suspicions local people held towards the missionaries and imperialists, whom they saw as wielding the Bible in one hand and the gun in the other. Ngugi portrayed the missionaries' work as brainwashing people so that they can steal their land and heap up riches for themselves. He was imprisoned for this, in 1977, without trial. Being considered a baddie in this era, makes his book a good read.
Tsitsi Dangarembga
You are missing a lot in your life if you haven't read this book Nervous Conditions by Tsitsi Dangarembga yet. This book introduces us to the many struggles that women experience. The non-fiction book novel takes place in Rhodesia (now Zimbabwe) in the late 1960s and early 1970s. It focuses on the themes of race, class, and gender through the eyes of Tambu, a young female protagonist, who is given an opportunity to go access higher education after the death of her older brother Nhamo. This journey of Tambu helps us view society from a different perspective and shows challenges faced by women trying to achieve their aims in life and the struggles they have to undertake to be able to succeed.
Lauren Beukes
If you are into sci-fi and crime books - here is a good one for you. Lauren Beukes's Zoo City leaves you with a 'what if moment? The novel is set in a world where murderers and other criminals acquire magical animals that are mystically bonded to them. The animals themselves give the owner a talent. The protagonist's Zinzi has a sloth on her back and has a talent for finding lost things. When a little old lady turns up dead and the cops confiscate her last paycheck, Zinzi's forced to take on her least favorite kind of job - finding missing people - in attempt to repay the financial debt she owes her drug dealer. Zoo City is one of the great imaginative feats of modern science fiction, which throws up all sorts of questions. It's a wild, fantastic ride ...
We live in a continent that is ethnically and culturally diverse and it comes as no surprise that the literature that has emerged from it be equally diverse. Here are some of the novels to add to your list:
Khaya Dlanga's To Quote Myself:
A Memoir - where Khaya recounts entertaining and moving stories about his roots and upbringing in rural Transkei, how he made his mark at school as well as his time spent studying advertising and as a stand-up comedian. He also shares his political views, how he overcame homelessness to become one of the most influential marketers in South Africa and he gives the reader a dose of the truly weird and wonderful that is routinely a part of his life.
NoViolet Bulawayo's We Need New Names
NoViolet Bulawayo book earned her a Caine Prize for her short story. The book tells a story about a Zimbabwean girl coming of age in the U.S.
Lidudumalingani Mqombothi's Memories We Lost
The book, set in the Eastern Cape, explores how traditional beliefs are used to tackle schizophrenia.