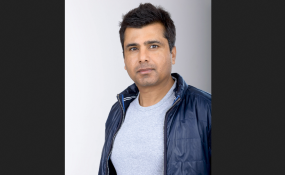 Photo: Rajesh Gopie/Facebook
By Melody Chironda
South African actor Rajesh Gopie landed himself in hot water after a racial post calling soccer supporters who caused a chaos at the Moses Mabhida stadium in KwaZulu-Natal "baboons".
Gopie wrote on his Facebook account: "Yah, and the Baboons like soccer too much so they want to play with human heads."
Mobs of Kaizer Chiefs fans unleashed their anger after a soccer match where they suffered a 2-0 defeat against Free State Stars.
Many people were not impressed by the actions of the Chiefs fans, including Gopie. The post has caused outrage on social media, with many calling for Gopie to face the same justice as convicted racists, Penny Sparrow and Vicki Momberg.
Gopie has since deleted the post and apologized following a social media backlash that greeted his racist rant.