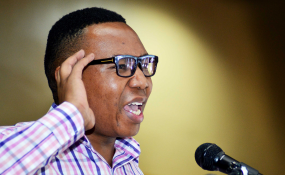 Photo: GCIS
By Andre van Wyk
Cape Town — A case of assault levelled against Mduduzi Manana, ex-deputy minister of higher education, after his former domestic worker, Christine Wiro, laid charges against him has been withdrawn, Times Live reports.
This comes after a report from The Citizen which said that the African National Congress MP attempted to push Wiro down the stairs of his double-storey home in Fourways, Johannesburg, which resulted in her laying charges of crimen injuria, assault and intimidation against him. "He was shouting at me saying I can't open his gate for anyone without checking with him first. I apologised but he kept shouting at me telling me that he had connections and can deport me back to Zimbabwe," Wiro said.
Manana paid a fine of R100,000 after he was convicted of three counts of assault with intent to do grievous bodily harm when he admitted to assaulting two women at a Cubana nightclub in Fourways, Johannesburg last year.