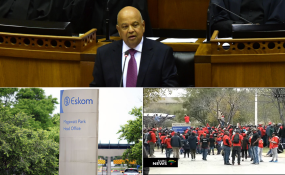 Photo: allafrica.com
By Andre van Wyk
Cape Town — Power utility Eskom has taken its 0% wage increase off the table and resumed negotiations with unions after an intervention by the Department of Public Enterprises, Eyewitness News reports.
Public Enterprise Minister Pravin Gordhan, along with the Eskom board and trade unions - the National Union of Mineworkers, National Union of Metalworkers of South Africa and Solidarity - discussed the interruption to electricity supply and salary negotiations. "The parties agreed that the current disruptions at Eskom that resulted in load shedding since yesterday are not beneficial to either party nor to the country and the economy," the statement read.
The cost of coal and the impact of policy such as the independent power producers programme were among additional "key issues" the parties agreed to discuss, Fin24 reports.
The talks come after the power utility alleged that workers sabotaged the national grid following protests against the now scrapped 0% wage increase, though unions have denied this, according to Eyewitness News.