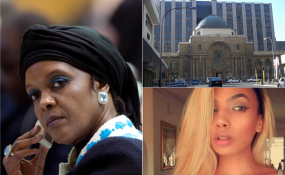 Photo: allafrica.com
By Andre van Wyk
Cape Town — A decision by former minister of international relations and cooperation Maite Nkoana-Mashabane to grant former Zimbabwean first lady Grace Mugabe diplomatic immunity has been set aside by the South Gauteng High Court, News24 reports.
Judge Bashier Vally found the decision to be "inconsistent" with provisions in the constitution, according to Times Live, and ordered that the ministry pay the costs of the application' brought by the Democratic Alliance.
Mugabe was granted diplomatic immunity after she allegedly assaulted 20-year-old model Gabriella Engels at a Sandton hotel in 2017. Mugabe claimed Engels was drunk at the time and attacked her with a knife during the altercation.