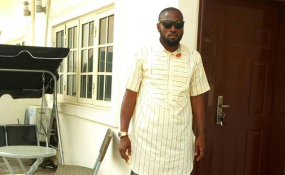 Photo: Mercy Blankson/Facebook
By Melody Chironda
Joseph Blankson died after single-handedly rescued 13 people who had fallen into a river when their boat capsized.
The boat was carrying 24 people when it toppled over on Saturday.
He had gone to his village and boarded the boat with his sisters, who were among the survivors of the accident. Blankson became exhausted while trying to save the 14th person, and tragically drowned.
Blankson, a contractor working with an oil and gas company in Port Harcourt, was described as being a good swimmer. The accident claimed the lives of six people, including Blankson.
According to CNN, his wife Mercy has described him as a "selfless and loving man who will be remembered as a real-life superhero".
The state authorities issued a message of condolence to the family, which has led to people drafting a petition, urging a state honour for Joseph Blankson.
The statement read:
I hereby call on the Government of Rivers State of Nigeria to immortalise Joe Blankson and also provide for the family he left behind. Such heroic effort deserved even both State and National Honours. It is not only politicians who loots our public treasury that should be given awards or immortalised. Joseph (Joe) Blankson in every sense of it should be honoured and immortalised.
At least 242 people have signed the petition.