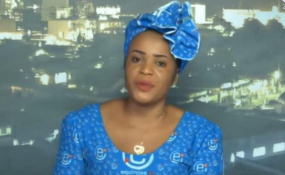 Photo: CPJ
By Michael Tantoh
Cape Town — Equinoxe Radio-Television English news presenter Mimi Mefo Takembou has been released from the Douala New Bell prison after a 72 hours. Takembou was charged with the propagation of false information and fake news to tarnish state authorities or the unity of the state, punishable by article 113 of the penal code, and the incitement to revolt, punishable by art 154 of the said code.
On her first appearance after her arrest, the much-celebrated journalist thanked the Cameroon public in general, lawyers who mobilized in their numbers for her defense, the press - both national and international - that stood by her during "this difficult period" and also her family.
It is still unclear who ordered her release or the withdrawal of the charges, and why the action was taken. Her lawyer Alice Nkom believes the fact that she was released before the actual trial shows the decision came from the top.
Colonel Didier Badject, spokesperson for the Cameroon army, seemed to confirm this by publishing a note saying that the decision is a "show of magnanimity" from President Paul Biya and "does not in any way mean that the Mimi Mefo is innocent" of the charges against her. He warned: "Nothing will prevent the authorities to arrest her if such is repeated. The decision should be considered as an act of appeasement by the head of state a day after his swearing-in."
The National Association of Cameroon Journalists, who had prior to the decision ordered the boycott of all government activities, have decided to call off the decision.
Mimi Mefo was arrested for sharing a Facebook post accusing government soldiers were responsible for the death of American missionary Charles Trumann Wesco. She attributed the news to other news agencies. She was to face a military tribunal.