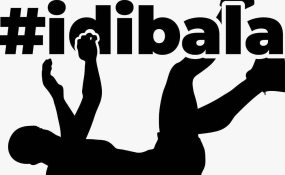 Photo: Samkelisiwe Modise/Instagram
By Melody Chironda
Cape Town — You've probably been wondering what this dancing fainting craze videos are all about, unless you've been living under a rock for the past week or two...
Limpopo-based singer King Monada's hit song, Malwedhe, has just sent us to an early festive season mood - not that we are complaining.
Malwedhe means illness or sickness in the Bolobedu dialect of the Sepedi language. The song is accompanied by a dance where people pretend that they're fainting at the chorus and words: ke na le bolwedhe bao idibala (I have an illness of fainting). Fans around the world have taken to social media to post videos of themselves doing the "fainting dance", falling to the floor when the lyrics drop. In classrooms, school grounds, and construction sites...
The song has inspired a dance unlike anything we've ever seen before and already gotten the public's stamp of approval as the festive season anthem. KeDecember boss!!!
King Monada is also the man behind the hit song Ska Bhora Moreki that ruled the airwaves around this time in 2016.
While some may consider it to be fun, some are concerned about its potential to cause injuries - as some "geniuses" have gone so far as doing the challenge while driving or cooking. Please don't spoil the fun - keep your medical aid for another day. Let us be safe!
#IdibalaChallenge is now spreading beyond South Africa's borders to the rest of Africa, and as far as China.