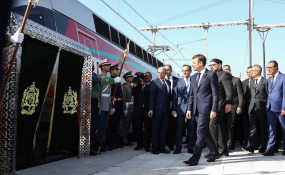 Photo: @Elysee/Twitter
press release
Rabat — President of the French Republic, H.E. Emmanuel Macron, left Morocco, on Thursday, after a working visit on the occasion of the inauguration of the Tangier-Casablanca high-speed train line.
On his departure from Rabat-Salé airport, the French President was greeted by head of government, Saâd Dine El Otmani.
After reviewing a detachment of the Royal Air Force that made the honors, he was also greeted by the wali of the Rabat-Salé-Kenitra region, governor of the Rabat prefecture, Mohamed Mhidia, chairman of the Rabat-Salé-Kenitra region Council, Abdessamad Sekkal, governor of the Salé prefecture, Abderrahman Benali and other civilian and military figures.
This working visit by the French president to Morocco testifies to the depth of bilateral relations based on a strong partnership thanks to a common willingness to consolidate the multidimensional ties between the two countries.
On this occasion, HM King Mohammed VI and the French President inaugurated, Thursday in Tangier, the "Al BORAQ" High Speed Train linking the cities of Tangier and Casablanca, a new project of its kind in the Maghreb and throughout the African continent, which has mobilized investments of around 22.9 billion dirhams.
The achievement of this project has involved an intelligent Moroccan-French partnership, an appropriate transfer of know-how, ingenious engineering and advanced technical skills.
This partnership has led to the creation in Rabat of the Institut de Formation Ferroviaire (IFF) benefiting railway workers from Morocco, France and other countries in the region, as well as the establishment of a joint venture between ONCF and the Société nationale des chemins de fer Français (SNCF) for the maintenance of high-speed trains, while allowing ONCF to gradually develop its skills in this field.