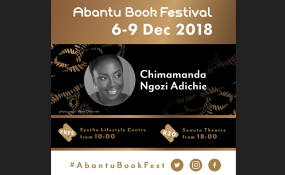 Photo: Abantu Book Festival/Twitter
By Melody Chironda
Cape Town — The annual Abantu Book Festival had a successful run in 2017 - and to celebrate Africa's rich and diverse literature, it was only befitting to get one of Africa's respected authors, Chimamanda Ngozi Adichie join the line-up.
The Abantu Book festival is the brainchild of South African author Thando Mgqolozana who imagined a "decolonized book event as a healing project for black writers and readers". The festival started in 2016.
So poets, novelists, playwrights, biographers, children's writers, literary scholars, musicians, actors, activists, thinkers, and readers will converge in the heart of Soweto, to transform the historic location into a literary village.
Global feminist icon Chimamanda Ngozi Adichie is popularly known for her novels Purple Hibiscus, Half of a Yellow Sun, Americanah, The Thing Around Your Neck and We Should All Be Feminists. In 2013, Adichie made headlines for her empowering TED talk, We Should All Be Feminists, and parts of her speech were sampled in Beyonce's song Flawless.
Besides being a bestselling author Chimamanda Ngozi Adichie is also a fashion lover - known for sharing her Nigerian-made outfits with the hashtag #MadeInNigeria.
Adichie will also be joined by Zimbabwean literature and film-maker Tsitsi Dangarembga who will be launching her latest novel, This Mournable Body. The creative writing workshop will be run by Kagiso Lesego Molope and Fred Khumalo. Favourite wordsmiths Lala Shoneyin, Bibi Bakare Yusuf, Odafe Atogun, Kwezilomso Mbandazayo were also added to this studded line-up. So cancel all your prior engagemnents, because you won't miss this!
The day events are free for all and will be held at the Eyethu Lifestyle Centre in Mofolo, and the night sessions at the Soweto Theatre in Jabulani will cost R20.
The festival will take place between the 6th and 9th of December.