If necessity is the mother of invention, you might say that adversity is its father. We have been witnessing a good demonstration of this as we continue to adapt to the consequences of the COVID-19 pandemic, particularly in the field of education.
School closures caused by the COVID-19 pandemic have upended education for more than 250 million children and youth in Sub-Saharan Africa. This is in addition to the 97 million children and youth in SSA who, according to UNESCO, were not enrolled in the education system prior to the covid-19 pandemic.
We know that when students are unable to attend school, they face significant challenges, including loss of learning, the risk of dropping out of school, teenage pregnancy or child marriage, and the loss of nutritional support and child protection and safety mechanisms. We have also seen, in a dramatic fashion, that by taking a learning-centric approach and employing education technology to its fullest, students can learn in more flexible ways, anywhere, anytime, alone or in combination with "virtual" teachers.
New communication products are enabling continuous contact between student and teacher. These include SMS messages that students receive on basic mobile phones, smart-phone video tutorials that can be downloaded anywhere at any time, and internet-based question-and-answer testing sessions for learners with real-time feedback from teachers. When done well these education technologies can also ease teachers' burden, reduce routine administrative tasks to allow more time for teaching, and help teachers identify where students are struggling and provide more targeted support. They can also provide data which can play a key role in understanding education inputs, class sizes, teacher attendance; assess learning progress; and target resources.
A new way to look at learning
For students, the hunger to continue to learn is as present as ever. In Kenya, for example, the Zeraki Learning tool from Litemore used to have about 1,000 downloads per month before the pandemic. In the first month after schools in the country closed, the number of downloads rocketed to 100,000. Similarly, in South Africa, Siyavula reported a 400% increase in the number of questions its automated platform sends daily to students who have subscribed, often free of charge.
EdTech has also shown that some students can cover more educational content, integrate it faster, and assimilate it better if they are able to learn at an individual rhythm.
The conditions that require this greater flexibility for learning were, of course, a reality well before COVID-19 and have since been exacerbated by the pandemic. Poverty, the need for young people to contribute to their family's income, caring responsibilities, and pregnancy, to name a few, all contribute to school absences and non-linear paths through education systems. As detailed in Mastercard Foundation's report, Secondary Education in Africa: Preparing Youth for the Future of Work, this is particularly true for secondary education, which is increasingly becoming the platform for work for young people across Africa.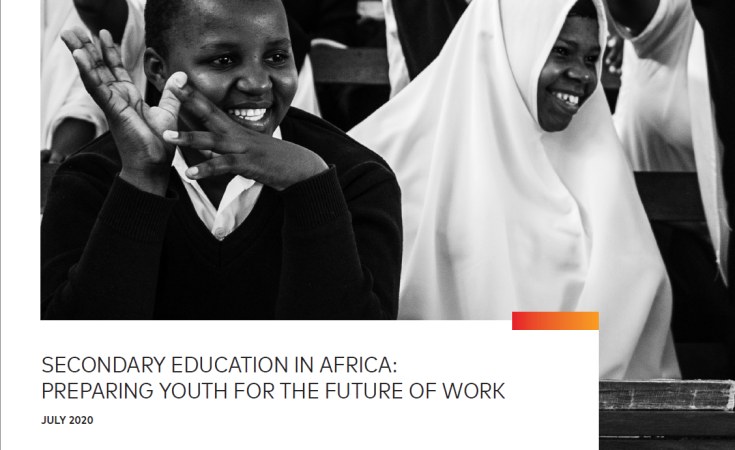 While the benefits of EdTech, during COVID-19 and beyond, are increasingly apparent, it is largely wealthy students who benefit. For most students in Sub-Saharan Africa, online learning remains a luxury. Low-income families or those living in rural areas often do not have the hand-held devices needed for appropriate e-learning, or they lack reliable and inexpensive connectivity to communications networks. Ensuring students have internet connectivity and can access the devices required to benefit from education technology is critical to preventing an even wider digital divide.
Shifting secondary education, in particular, from an elite system for a select few to a system open to all youth, and one that provides the skills and competencies youth need to thrive in a rapidly changing world of work, is an unprecedented but vital challenge. One that requires the political will to create conditions for transformation and encourage innovation to spread. Integrating innovations at scale and encouraging a more active collaboration between the public and private sectors will also be critical.
One solution, recommended in the Secondary Education in Africa report, calls for embedded innovation units within governments that continuously pilot, test, adapt and scale successful models. Another, currently being implemented through the Mastercard Foundation Centre for Innovative Teaching and Learning in ICT, connects smart, young entrepreneurs with Ministries of Education. The goal is to develop, together, the technologies and connectivity solutions that will enable the greatest number of students to benefit.
Technology opens new opportunities to think about the role of teachers and educators and how education workforces are structured – both in terms of specialization and opening access to a wider range of educators and experiences.
Despite the benefits, EdTech is not a panacea for every challenge that a student may face today. Democratizing and enabling learning online doesn't solve gender or other types of discrimination, bullying or harassment, or concerns around individual privacy. But if EdTech companies work closely with governments and education authorities, they can address those issues to ensure that e-learning remains a positive experience and reaches those who need it most.
Kim Kerr oversees education programs at Mastercard Foundation. Joseph Nsengimana is Director, Mastercard Foundation Centre for Innovative Teaching and Learning in ICT.
As we explore how technology will continue to shape and enable education on the continent, we invite you to be part of the EdTech Monday conversation, taking place in Ghana, Rwanda and Kenya. Join the conversation this Monday, 7th September at 9:00am GMT as the Minister of Education in Ghana is joined by Dr. Mary Ashun, an educationist and Ashwin Ravichandran, Managing Director of MEST, a partner of the Mastercard Foundation, to examine the shifts needed to transform secondary education in Ghana through technology. Join the conversation via @ Young Africa Works on Facebook.