Abuja, Nigeria — In an effort to achieve sustainable recovery and build resilience from the COVID-19 pandemic, the Mastercard Foundation today announced a program that will support more than 3 million people in sub-Saharan Africa over the next two years. The program will focus on building food security and increasing digital and financial inclusion within the most vulnerable farming communities. In addition, the program will:
Enable 65,000 farmers to directly benefit from quality land, seeds, fertilizers, mechanization, and storage.
Tackle the root causes of hunger and poverty through a $20.4 million commitment by the Mastercard Foundation.
Scale the work of the smallholder farming collective, Alluvial Agriculture.
The Mastercard Foundation's COVID-19 Recovery and Resilience Program will be implemented in partnership with Alluvial Agriculture. The program will directly support 65,000 smallholder farmers with mechanization, inputs, agronomic advice, and market access. The program will target an additional one million farmers with climate smart agro-advisory and market intelligence, benefitting at least 3 million direct dependents. The support program will enable participants to significantly improve yields, increasing from 2.5 tons of rice per hectare to 4.5, for example, or from 1.5 tons of maize to 4 tons.
"Farmers must be at the forefront of helping us recover from this crisis," said Chidinma Lawanson, Country Head, Nigeria, at the Mastercard Foundation. "This is a sector where there is tremendous potential, not just to create food security, but to enable work. But this isn't just about recovering from the impacts of the pandemic, it's also about building long-term resilience in the agricultural sector so that it can withstand the effects of emerging and future issues—like climate change."
Alluvial is tackling systemic problems that leave most sub-Saharan smallholder farmers unable to meet the minimum nutritional needs of their families and communities. Measures to contain the spread of coronavirus have made matters worse for farming communities by disrupting supply of inputs such as seeds, fertilizers, and access to markets.
Alluvial's innovative business model provides comprehensive support to smallholder farmers, including training, technology, land preparation, irrigation, input supplies, and market access. The company achieves this by organizing adjacent farms in community blocks. This means that tractors, for example, can efficiently plow each of the smallholdings, saving weeks of toiling by hand.
"With this tremendous support from the Mastercard Foundation, and expertise from numerous valued partners, Alluvial is transforming the approach to tackling hunger and poverty by channelling resources into sustainable food production as opposed to transitory food aid," said Dimieari Von Kemedi, Managing Director of Alluvial. "We invite all farmers, agriculturalists, and others to join us in one of the world's most pressing endeavours."
Using technology accessible from low-tech mobiles, Alluvial is also providing training and peer-to-peer advice on farm and market information, including rating providers of inputs and services. Alluvial's Market Information and Digital Payment System also enables fast and secure electronic payment through the Farmer Network Digital Payment System. Farmers can purchase from vetted providers of seeds and other inputs and services and securely receive payments by direct transfer.
Increased agricultural yield is urgently needed. The UN's Committee on World Food Security warns malnutrition will double as a direct result of the pandemic, with many more dying from food shortages than coronavirus.[1] Globally, 265 million people face acute food insecurity, almost twice the number of last year, according to the Centre for Strategic and International Studies.[2] Higher population growth puts Africa at particular risk of a food and humanitarian crisis with global dimensions in terms of unprecedented migration.
Save the Children warned this month that 67,000 children in sub-Saharan Africa are at risk of dying from hunger by year-end as already dire circumstances are exacerbated by the impact of the pandemic.[3]
Nigeria is at the epicentre of food security concerns. Currently, the world's seventh largest nation, the UN forecasts Nigeria will overtake the US as the third most populous country by 2050.[4] With no formal land tenure rights or central registry for titles of deed, most smallholders are unable to use their property to secure capital needed for seeds, fertilizers, or tractors.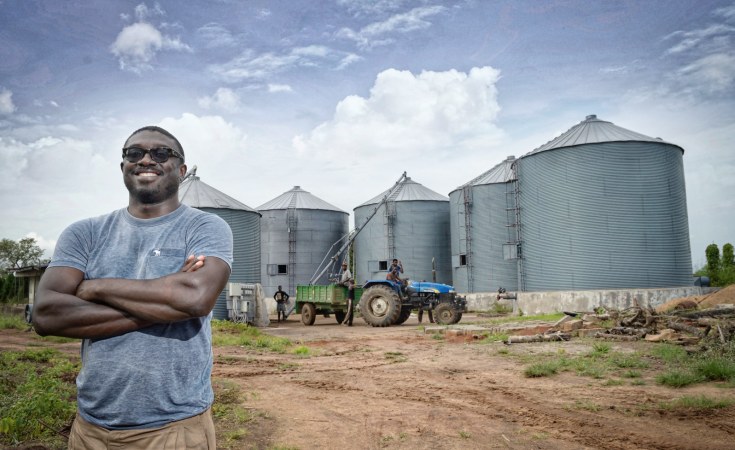 About Alluvial Agriculture
Alluvial is a highly scalable private sector response to decades of failure by various parties to tackle one of the world's most pressing issues: food security. We deploy an innovative business model that provides comprehensive support to small farm enterprises and smallholder farmers. This support spans training, technology, land preparation, irrigation, input supplies, and market access within contiguous farms in community and virtual blocks. Our partnership with communities, research and financial institutions, agtech companies, and value chain actors produces several high-quality crops and an enabling environment for farmers to sustain and scale up their activities. More information at https://www.alluvialtrade.com/
About the Mastercard Foundation
The Mastercard Foundation works with visionary organizations to enable young people in Africa and in Indigenous communities in Canada to access dignified and fulfilling work. It is one of the largest, private foundations in the world with a mission to advance learning and promote financial inclusion to create an inclusive and equitable world. The Foundation was created by Mastercard in 2006 as an independent organization with its own Board of Directors and management. For more information on the Foundation, please visit: www.mastercardfdn.org
About the Mastercard Foundation COVID-19 Recovery and Resilience Program
The Mastercard Foundation COVID-19 Recovery and Resilience Program has two main goals. First, to deliver emergency support for health workers, first responders, and students. Second, to strengthen the diverse institutions that are the first line of defense against the social and economic aftermath of this disease. These include universities, financial services providers, businesses, technology start-ups, incubators, government agencies, youth organizations, and non-governmental organizations. More information at: https://mastercardfdn.org/covid19-recovery-resilience-program/
For images, please click here
For video, please click here
For further information, photos, videos and interviews, please contact:

New Markets Media
Gavin Serkin
+44 20 3478 9710
gserkin@newmarkets.media
Mastercard Foundation
Nonye Mpho Omotola
Country Lead, Program Communications, Nigeria
nomotola@mastercardfdn.org
---
[1] https://medium.com/committee-on-world-food-security-cfs/radically-transform-food-systems-for-food-security-and-nutrition-a-new-un-report-urges-bd4b36b0d828
[2] https://www.csis.org/programs/global-food-security-program/covid-19-and-food-security
[3] https://www.savethechildren.net/news/sub-saharan-africa-426-children-day-risk-death-hunger-following-impact-covid-19
[4] https://www.un.org/development/desa/publications/world-population-prospects-the-2017-revision.html