Kigali, Rwanda — With the support of the Mastercard Foundation, the Belgian Government (the Directorate-General for Development Cooperation-DGD), and VVOB – education for development, 3,000 laptops were delivered to 30 districts in Rwanda. This initiative will help establish an enabling environment for online continuous professional development (CPD) for teachers and school leaders.
" The provision of these laptops to primary and secondary education schools will support teachers and school leaders to actively participate in important CPD programmes offered by the Rwanda Basic Basic Education Board (REB) and the University of Rwanda College of Education (URCE). Participation in these programmes has shown positive effects on school leadership practices, creating an environment for quality teaching and learning to take place ," said Marianne Kiggundu, VVOB Country Programmes Manager.
As part of its ongoing Leading, Teaching and Learning Together programme (LTLT), VVOB, in partnership with the Rwanda Basic Education Board and the University of Rwanda College of Education URCE, has been providing CPD services to district directors of education, sector education inspectors, headteachers, deputy headteachers, school-based mentors, and STEM school subject leaders through blended learning in CPD programmes and networks.
The CPD training programmes have been running in primary schools in four districts in the Eastern Province and two districts in the Western Province since 2017 with support from DGD. In secondary education, the CPD programmes are being offered in 14 districts as part of the Mastercard Foundation's Leaders in Teaching initiative. In Kayonza, laptops will be used by secondary education STEM and ICT teachers to start after-school coding clubs with their learners, as part of the Scratc2h pilot project and in partnership with the Rwanda Basic Education Board and Rwanda Polytechnic (via Rwanda Coding Academy) supported by Belgium through the Wehubit programme and being implemented by Enabel.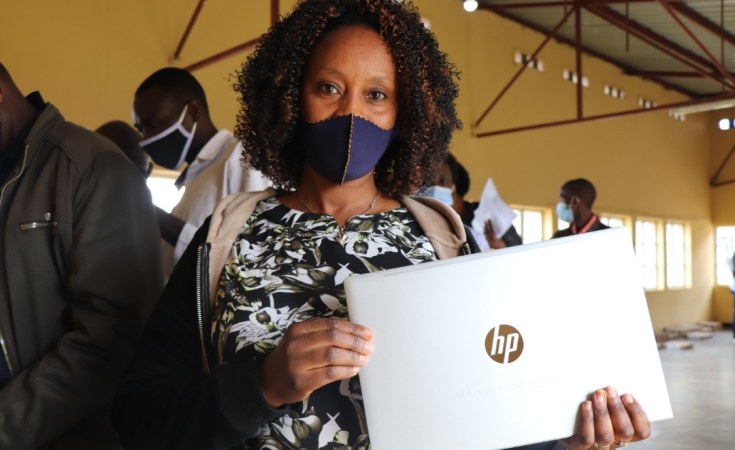 "I am very excited about receiving these laptops. At the school, we had only one laptop to be shared among all colleagues and we would have to borrow laptops from friends to be able to participate to online learning programmes. As a school we would also rent two or three computers once a year to make our work easier. These laptops are really a game changer to increase our ICT skills and enable us to study online whenever needed." said Ayinkamiye Louise, head teacher at G.S Kagano in Musanze district.
With further support from the Mastercard Foundation and the Belgian Government through the Directorate-General for Development Cooperation (DGD), VVOB aims to build the capacity of district and sector officials in the remaining 16 districts on effective school leadership, mentoring, and coaching and to ensure teachers and school leaders have the required ICT skills to participate in online learning. " Teachers are the axis on which education turns, " said Ri ca Rwigamba, Rwanda Country Head at the Mastercard Foundation. "It is critical that they receive the support they deserve to grow professionally and deliver quality learning. This work by VVOB will bring that support closer and make it more accessible ," she added.
"The desired quality of education can only be achieved if all education stakeholders are on board. Teachers and headteachers who have the ability to inspire students need to be kept top of mind and appropriately supported. We believe these computers will enable teachers to participate in online trainings and to progress with the digital world of education," said Dr. Nelson Mbarushimana, Director General, Rwanda Basic Education Board.
About VVOB
VVOB – education for development is an international non-profit organisation with over 35 years of experience in quality education. Through capacity development, VVOB provides support to ministries of education in Africa, Asia and South America to improve (initial) professional development of teachers and school leaders in early childhood, primary, general secondary, and technical and vocational education. For more information on VVOB, please visit: www.vvob.org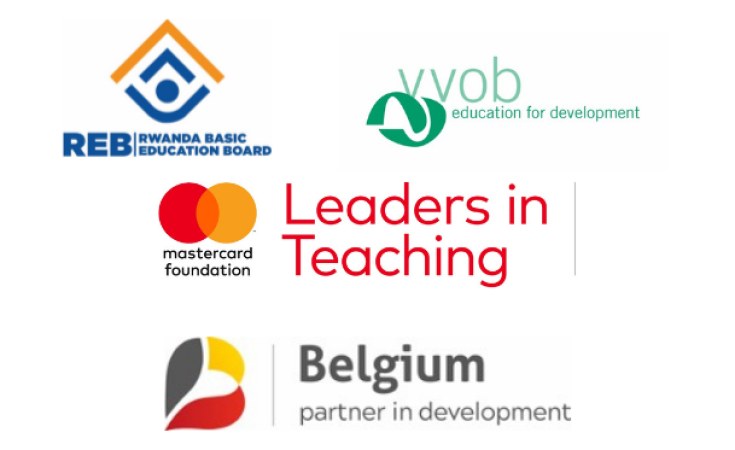 About Enabel
Enabel is the Belgian development agency, implementing the Belgian international development policy. Under the 2030 Agenda for Sustainable Development, Enabel carries out public service assignments in Belgium and abroad. With its partners, Enabel manages approximately 200 projects in view of improving public service delivery to citizens as well as the living conditions of populations, primarily on the African continent. Rwanda is among the three largest beneficiaries of Belgian development cooperation. This cooperation supports Rwanda's sustainable development agenda for the socioeconomic welfare of its population. For more information about Enabel, please visit: www.enabel.be
About the Mastercard Foundation
The Mastercard Foundation works with visionary organizations to enable young people in Africa and in Indigenous communities in Canada to access dignified and fulfilling work. It is one of the largest, private foundations in the world with a mission to advance learning and promote financial inclusion to create an inclusive and equitable world. The Foundation was created by Mastercard in 2006 as an independent organization with its own Board of Directors and management. For more information on the Foundation, please visit: www.mastercardfdn.org
For Press Inquiries
VVOB
Etienne Ntawigira
+250 788 791 586
etienne.ntawigira@vvob.org
Mastercard Foundation
Nicolas Emane
+250 783 720 809
Nemane@mastercardfdn.org