Washington, DC — U.S. Secretary of State Antony J. Blinken will travel to three African countries from August 7 to 12 with visits to South Africa, the Democratic Republic of the Congo, and Rwanda. These stops will follow visits to Cambodia and the Philippines beginning August 2. The trip will be his second to Africa since taking office, following a November visit to Kenya, Nigeria and Senegal.
A centerpiece of the trip will be a major policy speech outlining the administration's Africa strategy. A new policy framework has been under discussion for many months, coordinated by Judd Devermont, a former U.S. intelligence analyst who joined the National Security Council as special advisor for Africa strategy last October. On July 1, Devermont was tapped as the NSC senior director for Africa, replacing Dana Banks.The visit comes days after Russian Foreign Minister Sergey Lavlov toured four African capitals and French President Emmanuel Macron visited three west African states and follows on the announcement by President Joe Biden and Vice President Kamala Harris of a U.S. Africa Leaders Summit in Washington, DC in mid-December.
According to the State Department announcement, in Pretoria Blinken will take part in the U.S.-South Africa Strategic Dialogue, which was launched in 2010 by Secretary of State Hillary Clinton to deepen cooperation on a range of issues including health, education, food security, law enforcement, trade, investment, energy, and nonproliferation.
The policy speech he will deliver while there "will be an amplification of our conviction that partnership with Africa is really critical to meeting shared challenges," Assistant Secretary of State Molly Phee told reporters on Friday. He will build on his November policy address in Nigeria and provide an overview of "what we've been doing since the administration came into office." In his meetings with leaders media and civil society representatives, Blinken can expect to be quizzed about a range of issues including vaccine and other health inequities, U.S. funding for climate-change mitigation and concrete support for peace-building and the African Continental Free Trade Area, as well as the upcoming Summit in Washington.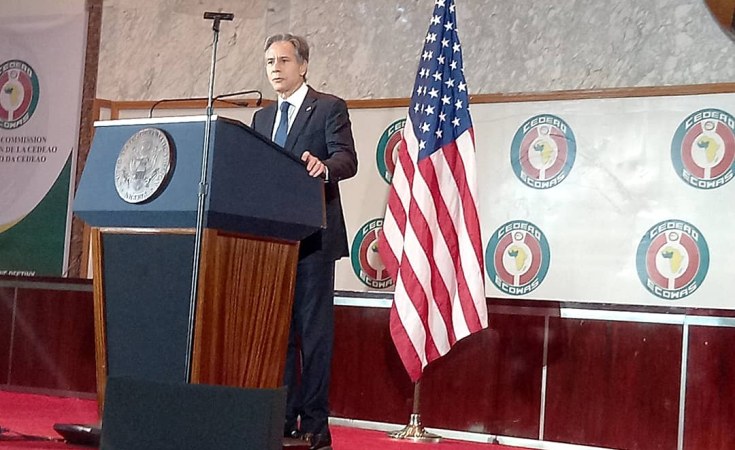 Along with Phee, the Secretary will be accompanied by Enoh T. Ebong, who directs the U.S. Trade and Development Agency, and Dr. John Nkengasong, the former head of the African CDC who is the U.S. Global AIDS Coordinator leading the President's Emergency Plan for AIDS Relief (PEPFAR). Dr. Reuben Brigety II, President Biden's choice to be ambassador to South Africa who was confirmed by the Senate on July 21, is expected to be at his new post to welcome the Secretary to the country.
From Johannesburg, Blinken will travel to Kinshasa where he "will meet with senior DRC government officials and members of civil society to discuss our mutual interest in ensuring free, inclusive, and fair elections in 2023, promoting respect for human rights and protecting fundamental freedoms," the announcement states. The Secretary's trip "will also focus on combating corruption, supporting trade and investment, addressing the climate crisis, building agricultural resilience, and support regional African efforts to advance peace in eastern DRC and the broader Great Lakes region" Under Secretary for Economic Growth, Energy, and the Environment Jose Fernandez will join the delegation in Kinshasa, Phee said.
The final stop will be Kigali where the State Department says "he will meet with senior Rwandan government officials and civil society members to discuss shared priorities, including peacekeeping." Further elaborating on the two-day stopover agenda, the announcement says: "The Secretary will focus on the role the government of Rwanda can play in reducing tensions and ongoing violence in eastern DRC. Recent outbreaks of fighting in eastern Congo have escalated tensions between the geovernments in Kinshasa and Kigali, with DR Congo accusing Rwanda of backing the M23 militia in the North Kivu region.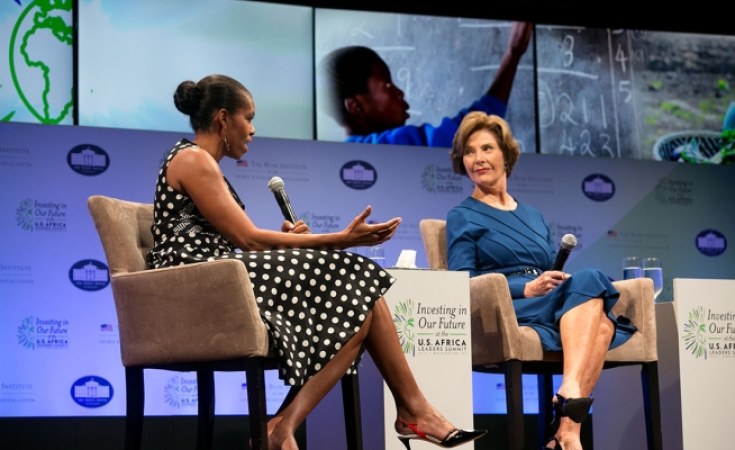 Blinken "will also raise democracy and human rights concerns, including "transnational repression, limiting space for dissent and political opposition, and the wrongful detention of U.S. Lawful Permanent Resident Paul Rusesabagina," the State Department statement said. Asked about the recent letter from Senator Robert Menendez, who chairs the U.S. Senate Foreign Relations Committee, raising concerns about Rwanda's human rights record and calling for a review of the U.S. approach, Phee told reporters that the Secretary had spoken with Menendez and said "he intended to raise the issues outlined in the letter" in his talks with Rwandan President Paul Kagame.
Menendez's call for a halt in security assistance to Rwanda is gaining bipartisan backing. The House Intelligence Committee heard testimony on July 26 from Carine Kanimba, alleging that the Rwandan government used the Pegasus spyware from Israel to track movements of her now-imprisoned father Paul Rusesabagina, prior to his kidnapping in Dubai and to target her and other family members.
While Blinken will be the most senior administration official to visit Africa this year, there have been a series of trips by top officials in recent months. USAID Administrator Samantha Power was in Kenya and Somalia this month focusing on food security. Deputy Secretary of State Wendy Sherman traveled to South Africa, Angola and in May, accompanied by Phee and Banks. State Department Counselor Derek Chollet visited Senegal and Mauritania earlier this month. Scott Nathan, CEO of the U.S. International Development Finance Corporation visited Nigerian and Sierra Leone this week "where DFC financing is supporting construction of the country's first major utility-scale power plant," according to an agency release. Under Secretary of State for Political Affairs Victoria Nuland visited Djibouti, Mozambique, and Nigeriav in June.

A week after Lavlov's visit to Kampala, U.S. Ambassador to the United Nations Linda Thomas-Greenfield will travel to Uganda, Cape Verde and Ghana "to discuss the U.S. and global response to the impact of Russia's war against Ukraine on global food security, as well as other regional and bilateral priorities." In Ghana, she will deliver a policy address on food security and peace in Africa and is expected to announce additional U.S. assistance for agriculture.
Senior administration officials have also met with a number of visiting top-level African officials in Washington. This week, the foreign minister of Niger, Massaoudou Hassoumi, met with Deputy Secretary Sherman at the State Department and National Security Advisor Jake Sullivan at the White House to discuss conflict in the Sahel and U.S.support for food security, democracy and econmoic development.
"High level visits should signal commitment, not just competition," according to Michael Gavin, writing in a blog for the Council on Foreign Relations. "That energy and high-level engagement is unequivocally positive," writes Gavin - a former U.S. ambassador and White House official during the Obama administration. But successful engagement "will take expertise, resources, and sustained commitment to move beyond crisis-management and execute a thoughtful strategy suited to U.S. interests and Africa's dynamic future."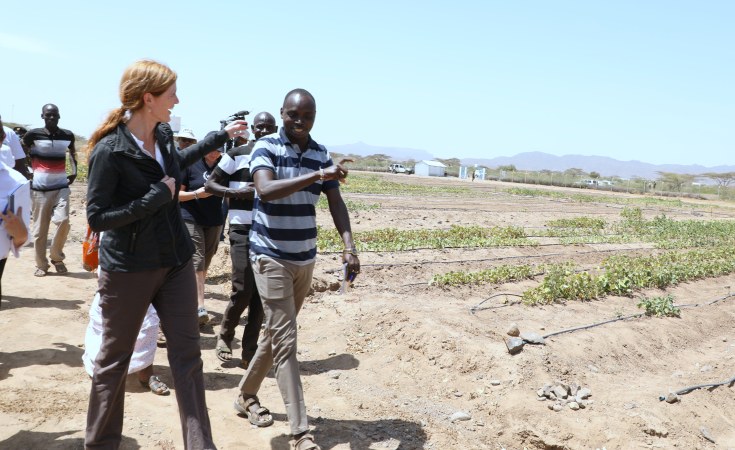 The administration's delegation to the U.S.-Africa Business Summit in Marrakesh earlier this month was led by Alice Albright, CEO of the Millennium Challenge Corporation and "senior representatives from 10 departments and agencies contributing to Prosper Africa, the U.S. government's signature initiative to increase trade and investment between African nations and the United States," according to MCC. These included the UTDA director Ebong; Travis Adkins, President and CEO, U.S. African Development Foundation; Leslie Marbury, Acting COO, Prosper Africa; senior officials from the Export Import Bank; Deputy Assistant Secretary of State Akunna Cook; Andrew Herscowitz, Chief Development Officer of the U.S. International Development Finance Corporation; and Dana Banks and Deniece Laurent-Mantey from the NSC.
Vice President Kamala Harris spoke by video to the opening session, where she disclosed the mid-December timing for the U.S. African Leaders Summit that she and President Biden will host in Washington, DC. Banks has moved from her post as NSC senior director for Africa to spearhead planning as the President's senior advisor for the December gathering.
"The continent is an important business market and African states are possible allies that no world power can afford to ignore for long," Mvemba Phezo Dizolele, director of the Center for Strategic and International Studies Africa Program said in Congressional testimony this month, adding that U.S. engagement doesn't match Africa's potential. "We ask why?"
Blinken's address in South Africa is expected to provide the clearest outline to date of how Africa fits into the administration's foreign policy objectives. He likely will get feedback during his meetings on what issues should be prioritized during the Summit in Washington from December 13 to 15.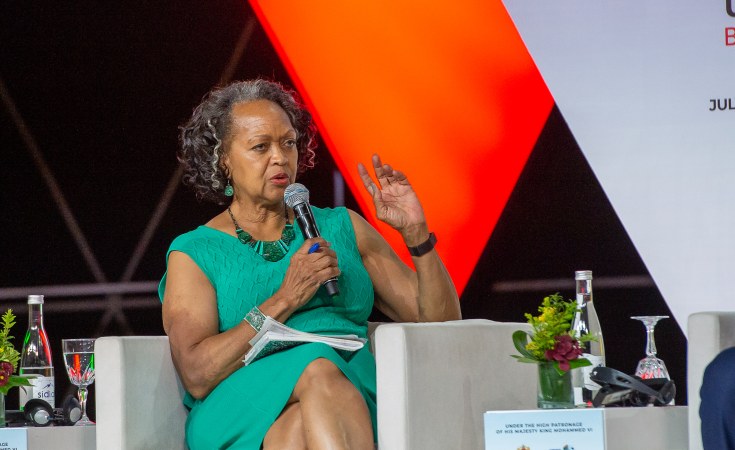 That gathering "will build on our shared values to better foster new economic engagement; reinforce the U.S.-Africa commitment to democracy and human rights; mitigate the impact of COVID-19 and of future pandemics; work collaboratively to strengthen regional and global health; promote food security; advance peace and security; respond to the climate crisis; and amplify diaspora ties," according to the White House statement, released as Harris was speaking to the Corporate Council on Africa Business Summit in Morocco.
Obama's 2014 Summit had a similarly broad agenda, raising questions about outcomes and long-term impact. Participants included 40 African heads of state, senior representative from 10 more countries and the head of the African Union, along with hundreds of U.S. and African businesspeople and civil society leaders. Not invited were leaders from Sudan, Eritrea, Zimbabwe and the Central African Republic, as well as AU member Western Sahara, which the United States does not recognize.
The invitation list for December has not been announced but is expected to be one topic of discussion during Blinken's bilateral meetings. One leader who has received an invitation is Liberian President George Weah, extended by U.S. Ambassador Michael McCarthy during his Liberian Independence Day speech on January 26. A story in a Liberian newspaper had reported that Weah – unlike almost all his predecessors - had not had a White House meeting since taking office five years ago.
[This article first published on July 29 has been updated with additional details about the Secretary's agenda and policy speech.]