Death Toll Rises in Ugandan World Cup Bomb Blasts
Bomb explosions have hit World Cup viewing venues in Kampala suburbs, killing scores and leaving many more critically injured.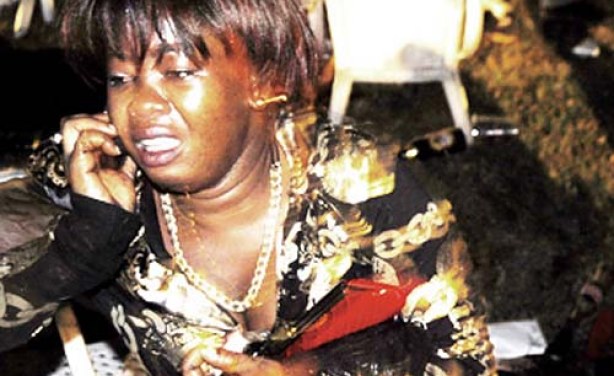 A distraught woman calls on her cellphone from the scene of one of the blasts. Ugandan police fear that Al Shabaab, an Al Qaeda-linked Somali militant group was behind the attacks.
Uganda: Museveni Mourns Victims

Monitor, 13 July 2010

President Museveni yesterday visited the scenes of bomb blasts in Kampala, offering public support to the families of the victims and vowing to track down the terrorists. Read more »

Uganda: Obama Offers U.S. Assistance in Phone Call to Museveni

allAfrica, 13 July 2010

Following the bombings in Kampala on Sunday, the White House announced that President Barrack Obama phoned Ugandan President President Yoweri Museveni Monday morning to express… Read more »

Uganda: Somali Militants Claim Responsibility for Bombing

Nation, 12 July 2010

Kenya was on Monday under heightened security after terrorist bombs killed 74 people in Kampala. Read more »

Uganda: Death Toll Climbs to 64 in Kampala Blasts

New Vision, 12 July 2010

The death toll in the simultaneous bomb blasts that rocked Kampala last night has climbed to 64 according to Police reports. Read more »

Uganda: Scores Die in World Cup Bomb Blasts

New Vision, 12 July 2010

WHAT should have been a feisty viewing of the 2010 World Cup finals between Netherlands and Spain turned tragic as three bomb explosions ripped through the city suburbs, killing… Read more »

Uganda: 23 Killed Watching World Cup

allAfrica, 12 July 2010

Explosions ripped through a restaurant and a sports club in Uganda's capital, Kampala, on Sunday night, killing more than 20 people who had gathered to watch the World Cup final. Read more »

Uganda: Explosions in Kampala Bars Kill Dozens

RFI, 12 July 2010

At least 64 people were killed and 65 wounded when bombs went off in a bar and a restaurant in Kampala, the Ugandan capital, Sunday evening as people gathered to watch the World… Read more »

Uganda: Dozens Killed in World Cup Bomb Blasts

Monitor, 12 July 2010

More than 50 people have been killed in three separate bomb blasts in the Ugandan capital - Kampala as the residents watched the 2010 World Cup final on giant screens. Read more »

Somalia: Al-Shabaab Urges Attacks on Diplomats

Nation, 8 July 2010

Al-Shabaab, the strongest radical Islamist group opposing the Transitional Federal Government in Somalia has invited Islamists everywhere to act against the diplomatic missions of… Read more »

Somalia: Al-Shabab Condemns IGAD's Meeting in Addis Ababa

Shabelle, 7 July 2010

The Islamist fighters of Al-shabab have Wednesday condemned IGAD's meeting in the Ethiopian capital Addis Ababa which was focused on the Somali matters, officials said on… Read more »
Video
Publisher:

Publication Date:

12 July 2010

Two explosions at World Cup viewing venues in Kampala killed and injured scores of people watching the final match on television. see more »
InFocus
Muhamoud Mugisha, one of the suspects charged with the July 11 Kampala twin bombings, yesterday appeared at Nakawa Magistrates' Court and recorded an extra-judicial statement. Read more »

East African leaders have called for 20,000 troops to be deployed across Somalia to support the country's besieged transitional federal government. Read more »