Nigeria: Africa's Richest Man to List in London
Aliko Dangote is Listing his cement business on the London Stock Exchange, hinting that if successful, he will step down as Chairman of the company.


Nigeria: Dangote Cement to List On LSE

Vanguard, 3 April 2012

Aliko Dangote has commenced plans to list his N1.76 trillion ($11 billion) cement business, Dangote Cement Plc, on the London Stock Exchange next year. Read more »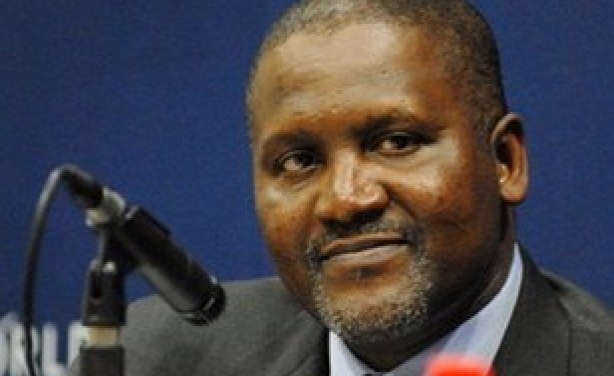 Aliko-Dangote, the richest man in Africa.
Nigeria: Dangote to Step Down as Chairman of Cement Firm

This Day, 3 April 2012

Chairman of Dangote Cement Plc, Alhaji Aliko Dangote, has hinted that he will step down from the company next year if his plan to list the $11 billion cement business on the London… Read more »

Zambia: Dangote Cement Plant Works On Schedule

Times of Zambia, 16 March 2012

CONSTRUCTION of the US$400 million Dangote Cement plant in Masaiti District on the Copperbelt is on schedule and progressing well, withmore equipment arriving in the country. Read more »

Cameroon: Cement Plant Construction Halted

Cameroon Tribune, 13 March 2012

Complaints from Ngondo cultural officials have forced the City Council to halt work. The demand for cement in the country has been on the rise in recent years with an annual… Read more »

Nigeria: Cameroon Moves to End Row Stalling Dangote's N18.2 Billion Plant

The Moment, 15 March 2012

CAMEROON has taken steps towards resolving the land dispute that has stalled the construction of Dangote Group's N18.2 billion ($115 million) cement plant in the country. Read more »

Nigeria: Dangote Assures Investors of Steady Returns

This Day, 7 March 2012

The Chairman of Dangote Cement Plc, Alhaji Aliko Dangote, has said the expanded capacity of the company would lead to increased turnover, profitability and ultimately dividend for… Read more »

Nigeria: Dangote Rescues Benue Communities With N50 Million

Leadership, 6 March 2012

The N50million earth dam constructed by the Dangote Cement in Gboko, Benue State is timely as it is one of the major sources of water supply to the communities. Read more »

Nigeria: Dangote to Expand Ibese Cement Plant to 12 Million Metric Tons

Daily Trust, 1 March 2012

President of Dangote Group, Aliko Dangote has unveiled plans to expand the newly commissioned Ibese cement plant's capacity from six million metric tons per annum to 12 million… Read more »

Nigeria: Aliko Dangote Assures Nation of Cheaper Cement

Leadership, 29 February 2012

President of the Dangote Group, Aliko Dangote, on Tuesday, assured Nigerians of the availability of cement in the country. Read more »

Nigeria: Cement - 10 Governors Court Dangote's Investment in Their States

Daily Trust, 21 February 2012

Following the successful commissioning of the Dangote Cement's new six million tons per annum capacity Ibese plant, no fewer than 10 state governors have expressed interest in… Read more »

Nigeria: Cement Investment - 10 Governors Woo Dangote

Leadership, 20 February 2012

Following the successful commissioning of the Dangote Cement six million tons per annum capacity Ibese Cement plant, no fewer than 10 State governors have expressed their desire to… Read more »

Liberia: Dangote Invests U.S.$20 Million in Liberia's Cement Sector

Leadership, 20 March 2012

Africa's richest man has signed an agreement with the government of Liberia that will give him the green light to invest US$20 million in the country's cement industry. Read more »

Nigeria: Will Dangote End Cement Imports?

Daily Trust, 17 February 2012

Last week's Thursday, President Goodluck Jonathan inaugurated what could mark the end of an embarrassing era of massive imports of cement, and the beginning of a promising one,… Read more »

Nigeria: Dangote Cement Project Boosts Jobs Creation

This Day, 15 February 2012

The third integrated cement factory owned by the Dangote Group was recently unveiled by President Goodluck Jonathan in Ibese, Ogun State. Linda Eroke, who covered the event, writes… Read more »

Nigeria: Dangote Cement Wants FG to Invest On Infrastructure

Daily Trust, 14 February 2012

Dangote Cement has urged the Federal Government to invest more on infrastructure to enable it to absorb the anticipated increase in cement production. Read more »

Zambia: $500 Million Dangote Cement Plant Works On Course

Times of Zambia, 13 February 2012

WORKS on the construction of the US$500 million Dangote Cement plant in Masaiti District expected to be the largest in Zambia, is progressing well and will be completed on… Read more »

Nigeria: Dangote Changes the Narrative

Daily Trust, 13 February 2012

Last Thursday, wholly Nigerian manufacturing Dangote group opened a one-billion-dollar cement plant at Ibese a hitherto wasteland of a century long reserve of lime stones and red… Read more »

Nigeria: Jonathan Launches N160 Billion Ibeshe Cement Plant

The Moment, 10 February 2012

THE quest for self-sufficiency by Nigeria in cement production received a major boost, as President Goodluck Jonathan has commissioned Dangote Cement plant in Ibeshe, Ogun State. Read more »

Nigeria: Dangote to Crash Cement Prices With New N160 Billion Plant

Daily Trust, 10 February 2012

The Chairman of Dangote Group of Companies, Alhaji Aliko Dangote, said yesterday that he intended to crash cement prices in the country with the commissioning of his $1 billion… Read more »

Nigeria: Govt to Save Two Billion Dollars From Cement Importation

The Moment, 8 February 2012

NIGERIA is set to save up to $2billion on the importation of cement, following the commissioning of what is expected to be the largest cement factory in Sub Saharan Africa. Read more »

Nigeria: Dangote's 10,000 New Jobs

Daily Trust, 6 February 2012

In everything that we do, money never comes first. The overall interest is to produce what will benefit all Nigerians-Aliko Dangote Read more »

Nigeria: Economy Not Beyond Salvage - Dangote

Leadership, 6 February 2012

The Chief Executive of Dangote Group, Alhaji Aliko Dangote, has said the Nigerian economy was not beyond salvage, but only required visionary leadership. Read more »

Nigeria: Jonathan Launches Dangote Cement Plant Thursday

The Moment, 6 February 2012

PRESIDENT Goodluck Jonathan will on Thursday February 9 commission the multi-billion dollar new Dangote Cement plant, situated in Ibese, Ogun State. The new plant has an installed… Read more »